Mark Fickett Art: Bicycle Shelves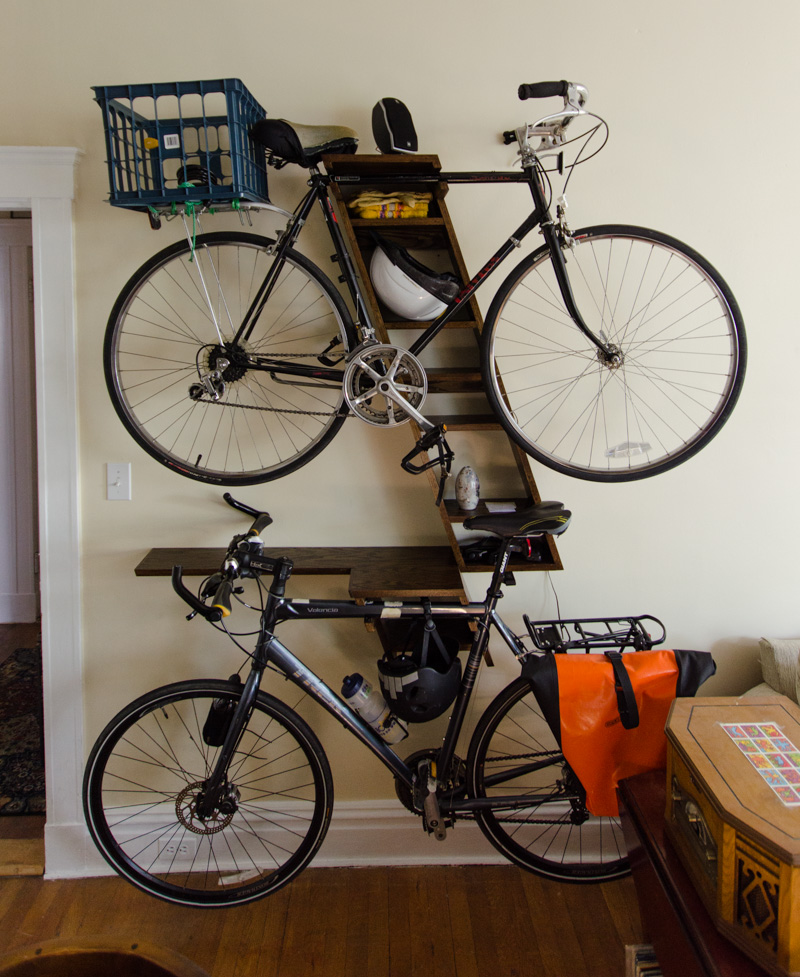 A combination of shelves and indoor storage for two bicycles. Skip to more photos.
Inspiration
I found a number of attractive options for indoor bike hangers with integrated storage. However, none were designed for two bicycles, all were slightly expensive, and building my own sounded fun.
Planning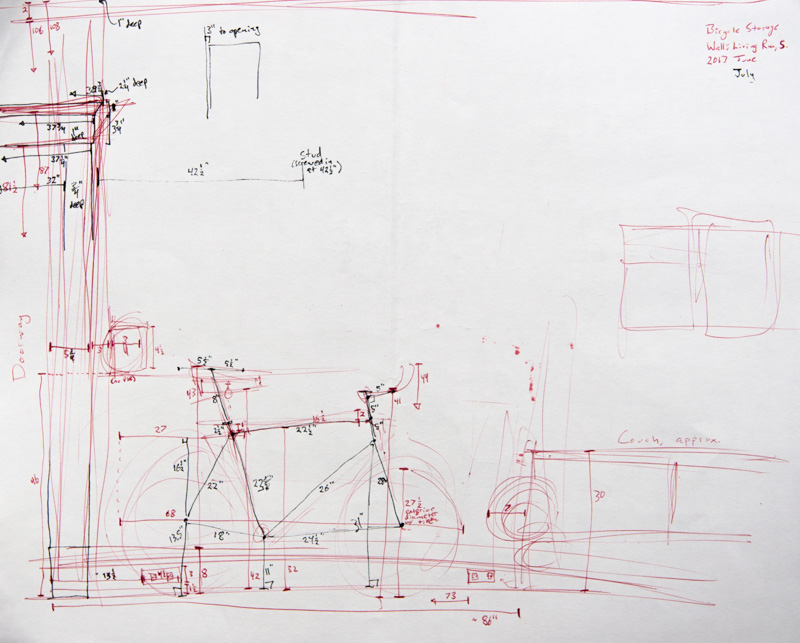 I measured the wall and the bikes in some detail so I could plan around the two particular bicycles and the available space.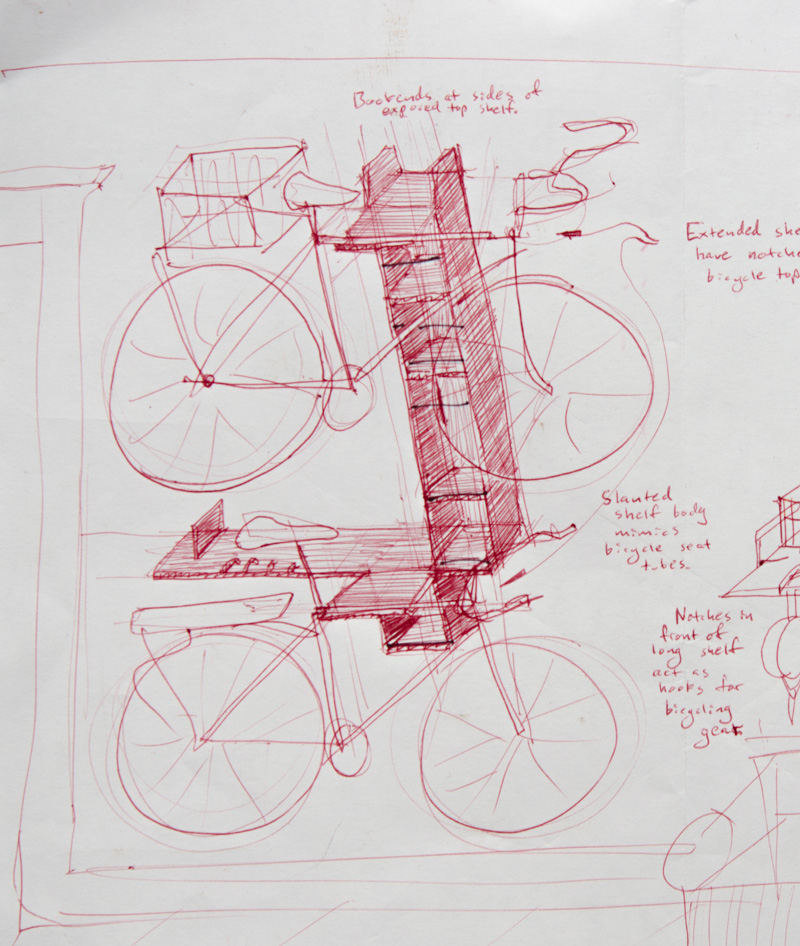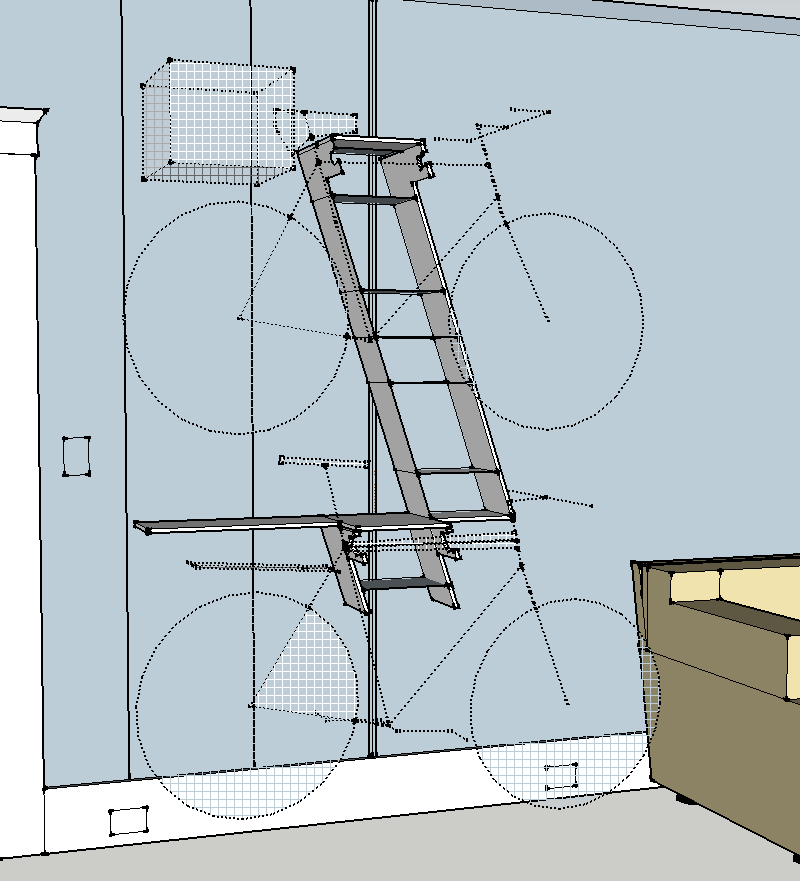 To be able to design for the bikes' sizes and shapes, I roughed out the shelves in SketchUp (screenshot above; or download the model).
Once I had a design I liked, I planned for construction, starting with estimating the wood I'd need. (The layout of the pieces below turned out to be wrong for cutting on a table saw, but served to verify that the shelves could be built with one 4x8 sheet.)
Construction
My uncle Geoff (who was a carpenter in the past and currently teaches shop) guided me through construction. Our supplies and tools included:
1 4x8 foot sheet of oak plywood (only half used)
10' solid oak trim
about 5' solid oak board for nailers
table, jig, chop, and hand saws; drill; nail gun and wood glue; orbital and belt sander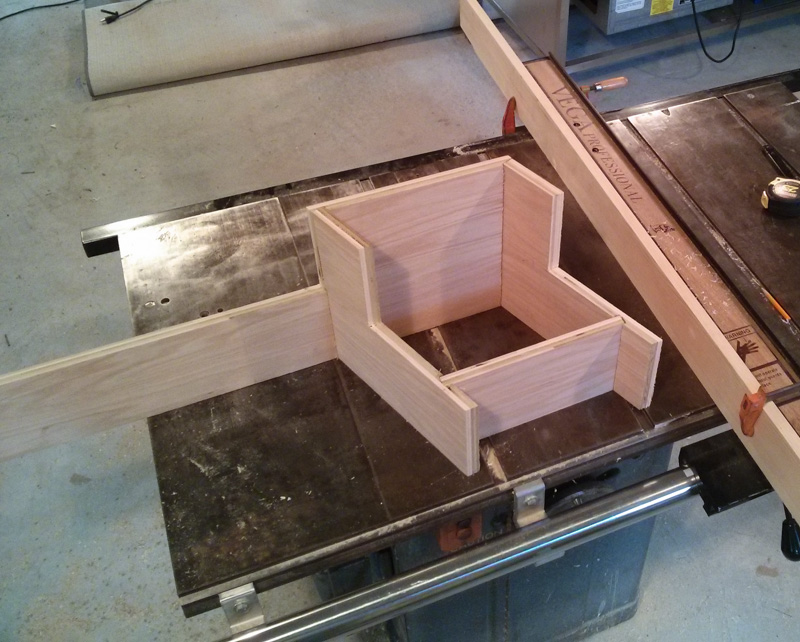 Correctly angling all the cuts and dados turned out to be a challenge, especially since I had not planned those details beforehand. We mocked some of the joints on scraps.
Buying supplies and building the shelves took a solid day's work. Sanding, staining, and finishing took about another three evenings' attention, but was spread out over the next month.
I stained the shelves with Dark Walnut Minwax wood stain and gave them two coats of polyurethane varnish (with the typical sanding steps throughout the process, but no pre-stain wood treatment).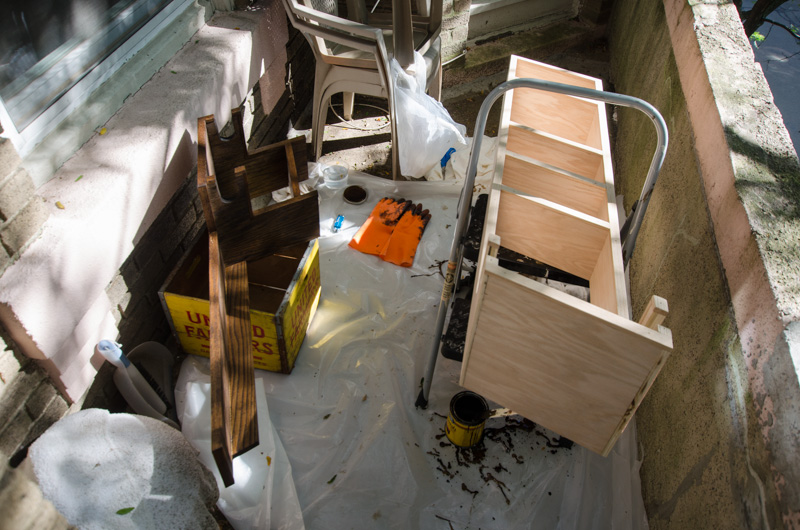 To plan where to place the shelves and drill pilot holes, I made paper mocks of the shelves, then did a trial fitting of the bottom shelf to better coordinate the halves. (The metal hook pictured was the interim solution; the lower bike simply leaned against the wall.)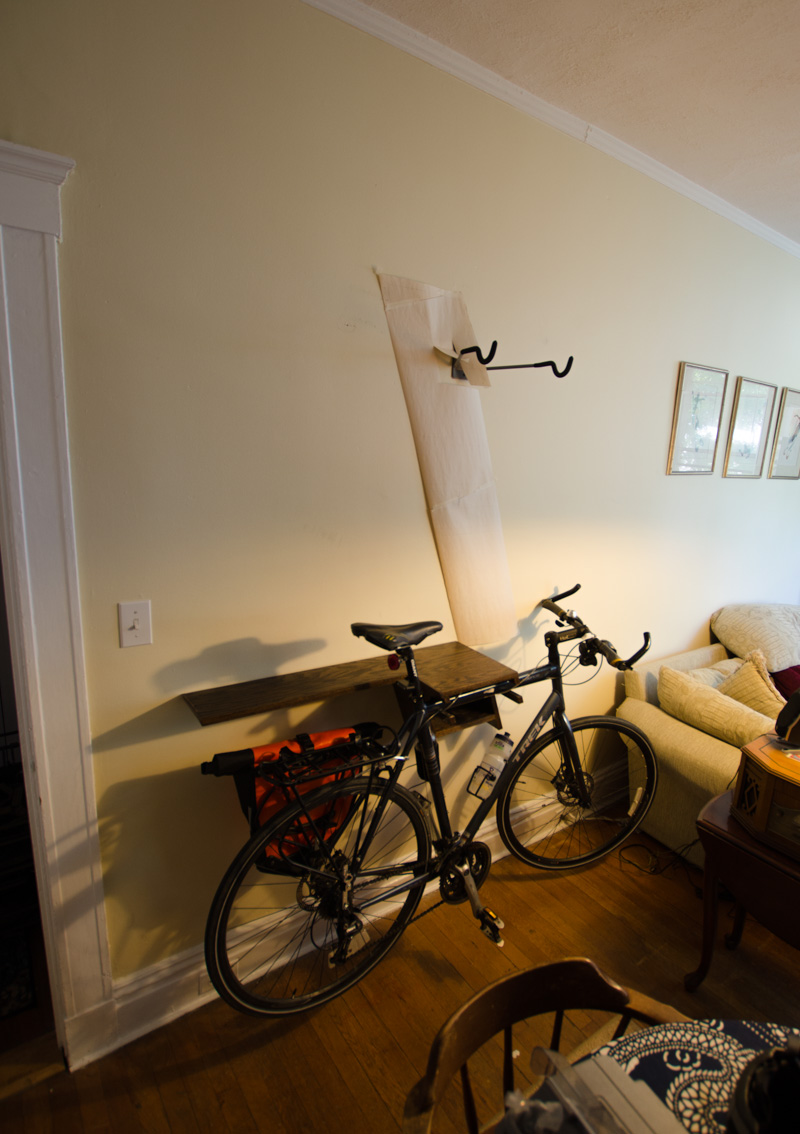 Photos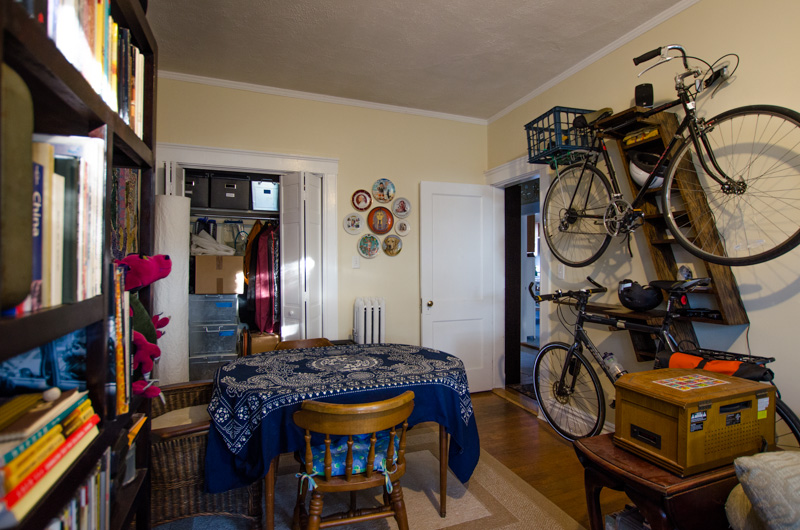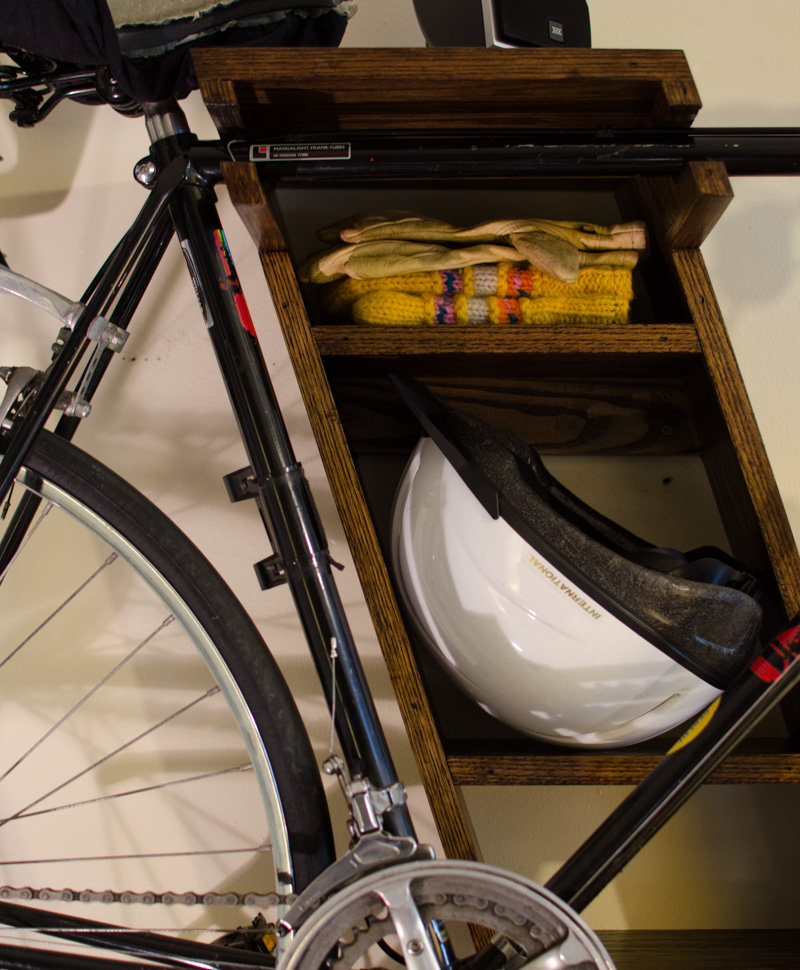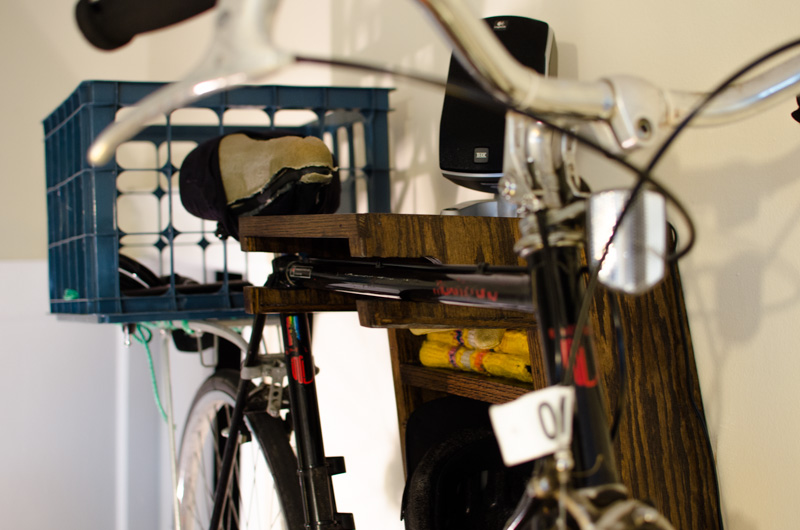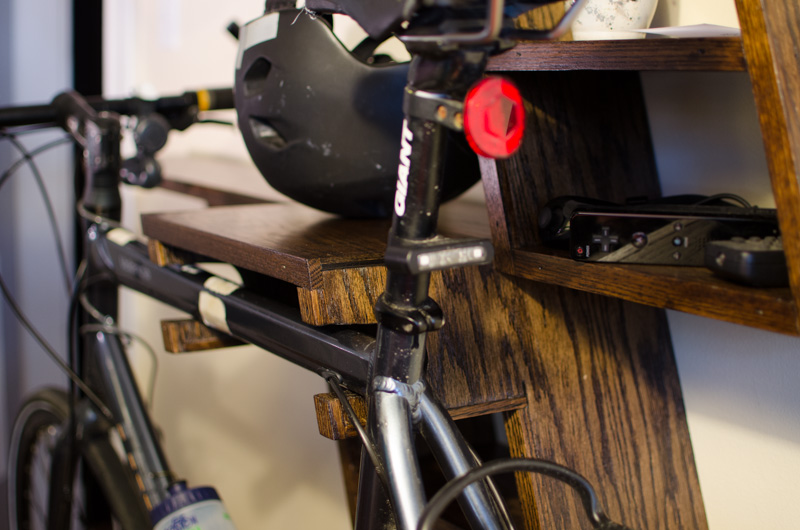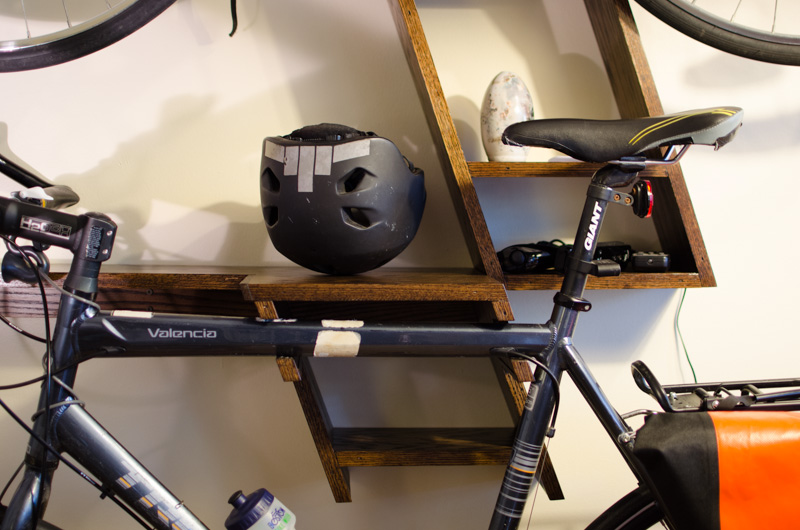 2013-08-25 / Oak Plywood, Solid Oak, Minwax Dark Walnut Stain and Polyurethane Varnish / 5'h x 4'w x 1'd
Created by and © 2013 Mark Fickett except where noted. I try for valid XHTML 1.0 Strict and CSS.