Mark Fickett Art: Gong Ringer
When a customer makes a purchase order, a script automatically triggers a tennis ball to be released down a track which ends with the ball ringing a gong.
Videos
Alternate views:
Overview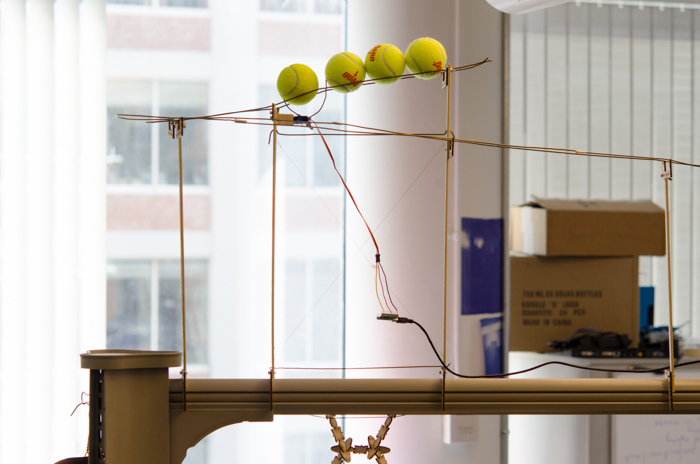 The track starts with a servo motor which automatically releases a tennis ball when signalled by the computer.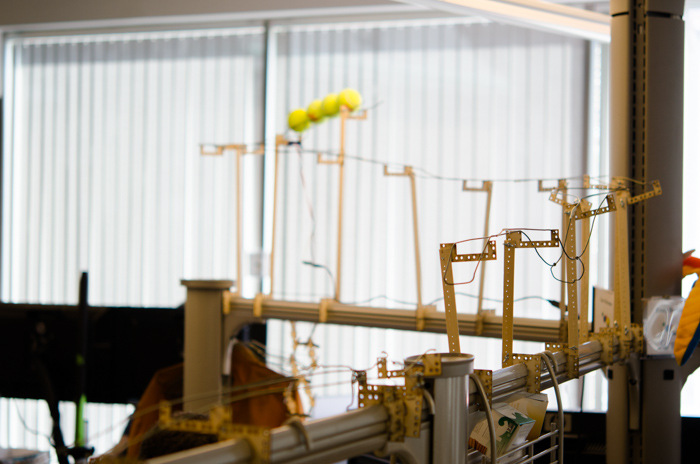 The track runs along the divider behind four desks, with a bounce / jump at the middle.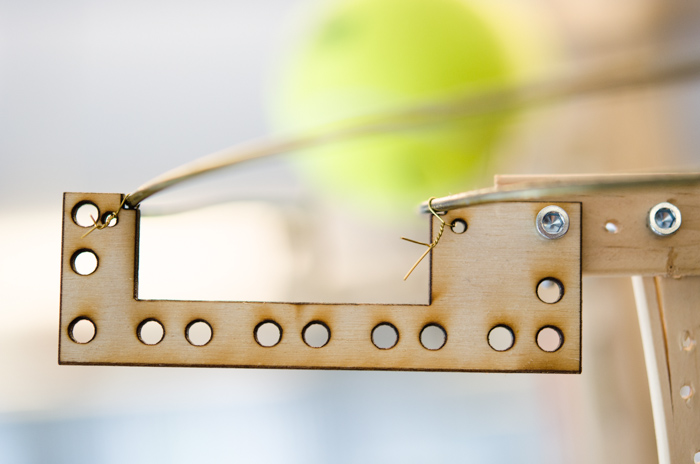 The coat-hanger-wire track is bound to lasercut brackets with wire.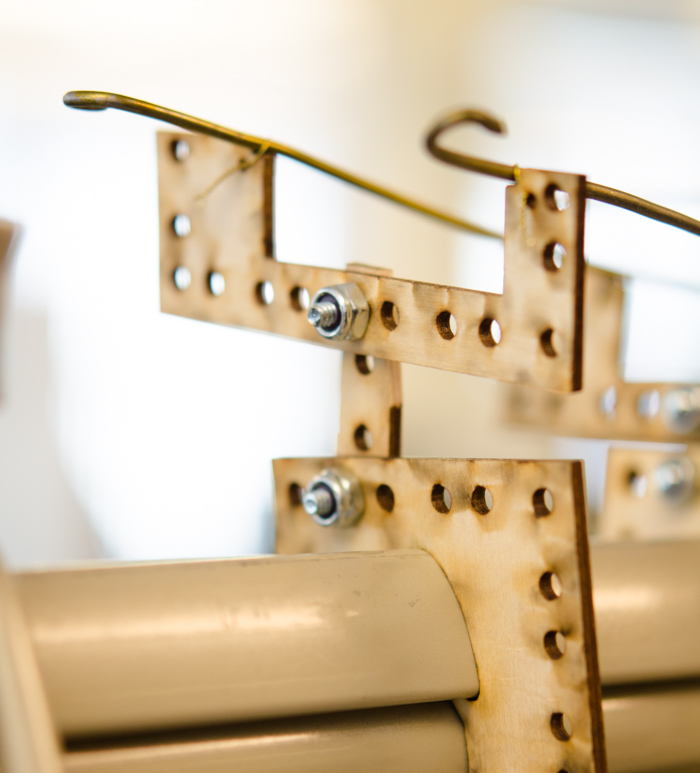 The track brackets are supported via wooden slats by brackets that slide onto the bars of the office dividers.
Construction
The office furniture (from the Herman Miller Resolve System) has bars along the tops of the separators.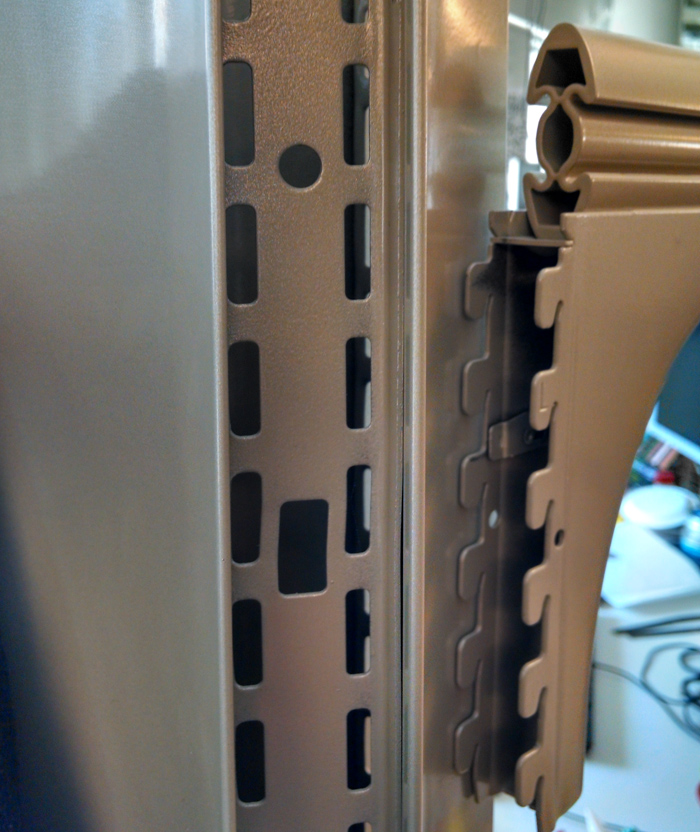 The bar supports can be lifted out of slots on the posts.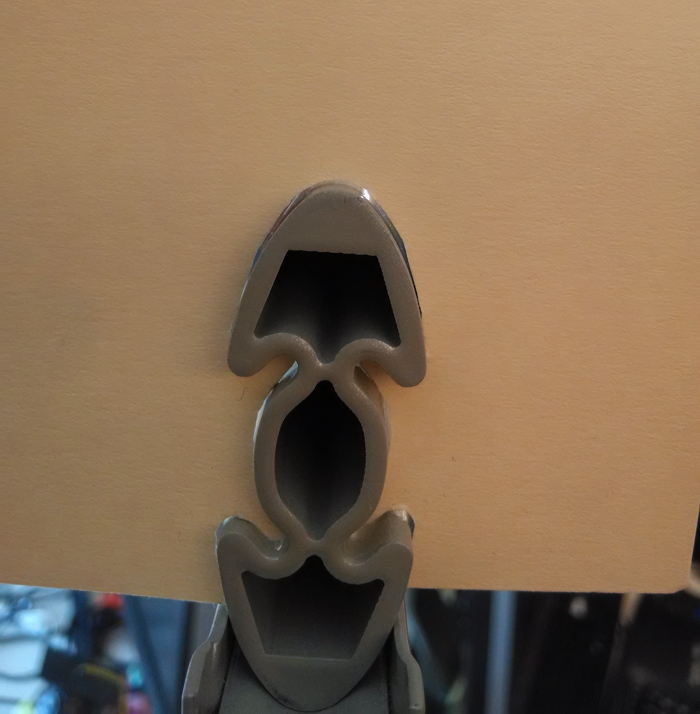 The initial paper mock of the brackets to fit on the top rail. This was scanned, then traced in Adobe Illustrator, cut and test-fit.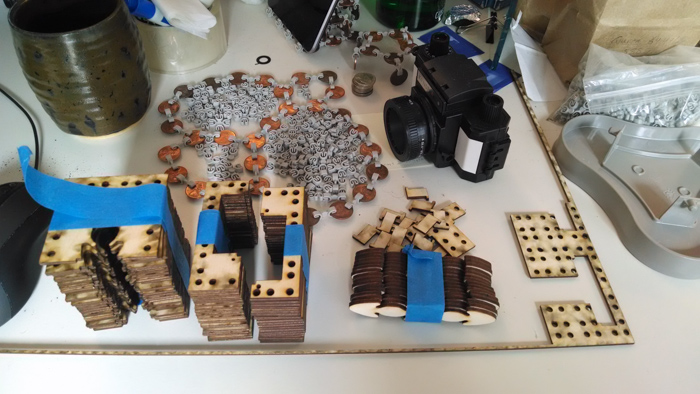 After a revision to the rail bracket's fit, a full set of rail and track brackets were cut.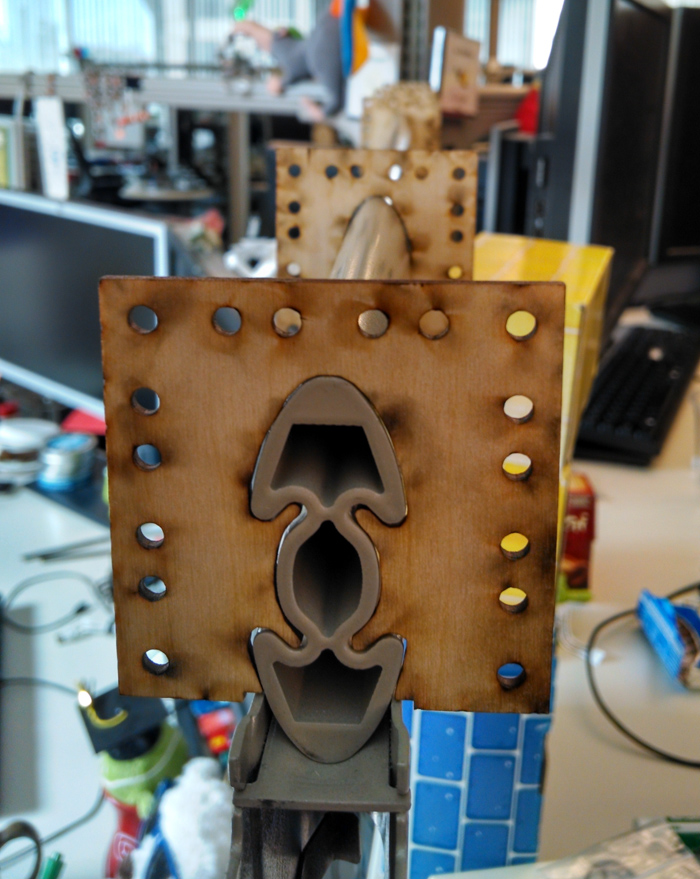 Initial installation of the rail brackets.
Thanks to Kate Peterson for help installing the track and inventing its path.
Parts
tennis balls
Teensey 2.0, for servo motor control
#6-32 socket-cap machine screws, wing nuts, and nylock nuts from ServoCity.com (about 50 screws, ½" and 3⁄8")
brackets, laser-cut at danger!awesome
wire from about 20 coat hangers
28 guage brass wire
wooden furring strips from the local hardware store (about 10, 3'x1"x1⁄8")
Software
a server reports new purchase orders on a machine-readable status page
on a desktop machine, a Python script

fetches and parses the status page
determines if a new order has been submitted
if so, writes a magic character over serial (simply by shelling out echo 'P' > /dev/ttyACM0)

the Tennsey runs an Arduino sketch, based roughly on the servo sweep example sketch, which

listens for the magic character on serial (emulated on USB)
when it sees the character, moves the servo back and forth to release a tennis ball
2014-04-02
In: Arduino
Created by and © 2014 Mark Fickett except where noted. I try for valid XHTML 1.0 Strict and CSS.