Mark Fickett Art: RC Hovercraft
Finished Hovercraft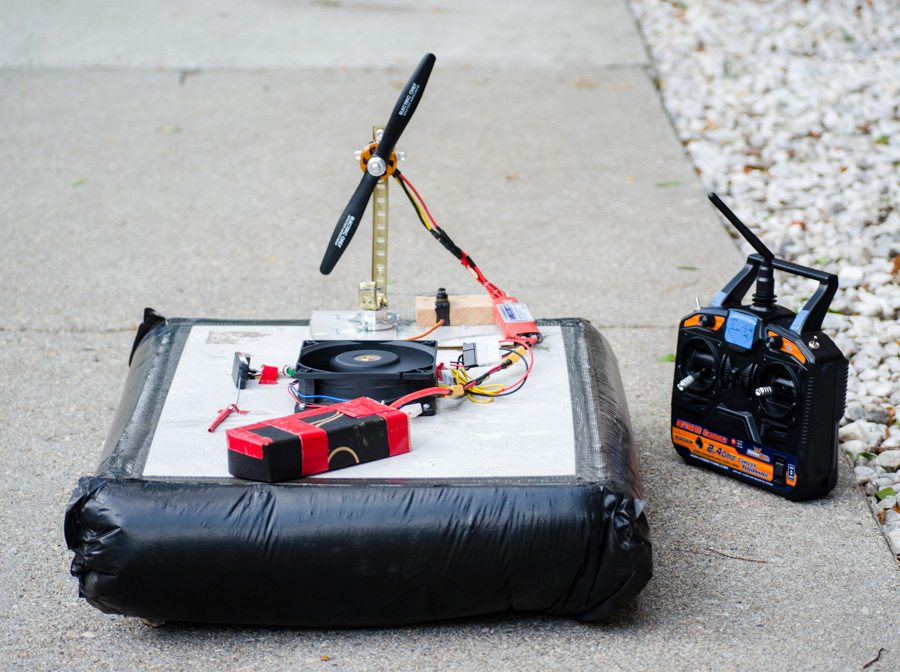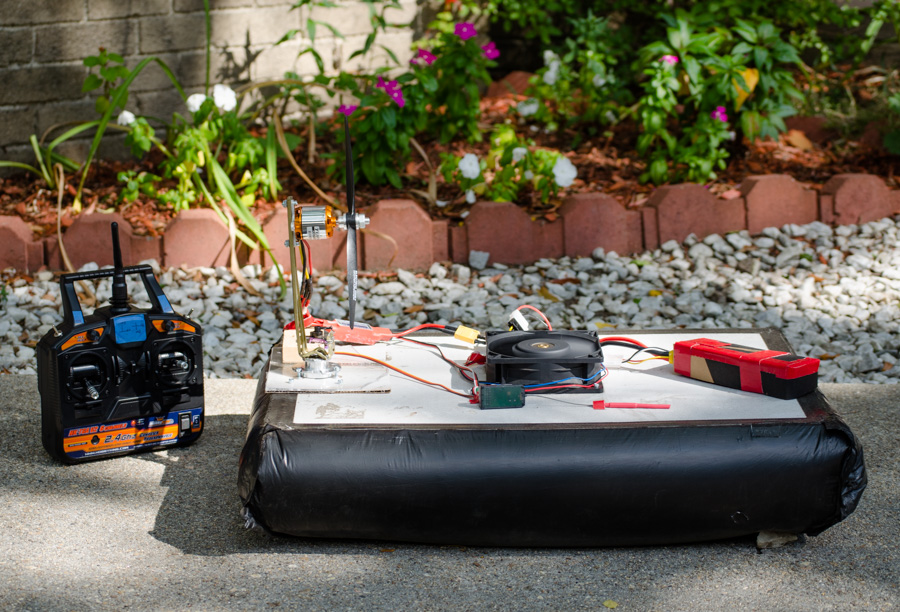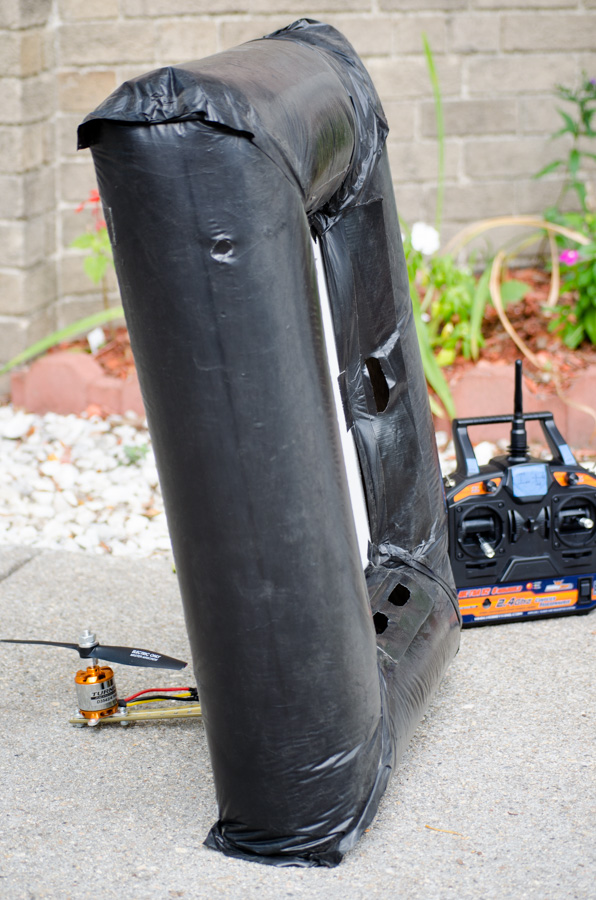 The skirt is like a slanted round tire, filled from the open side where it's attached to the hull. Air escapes through vents and along the seam between the skirt and the bottom of the hull to form an air cushion under the hovercraft .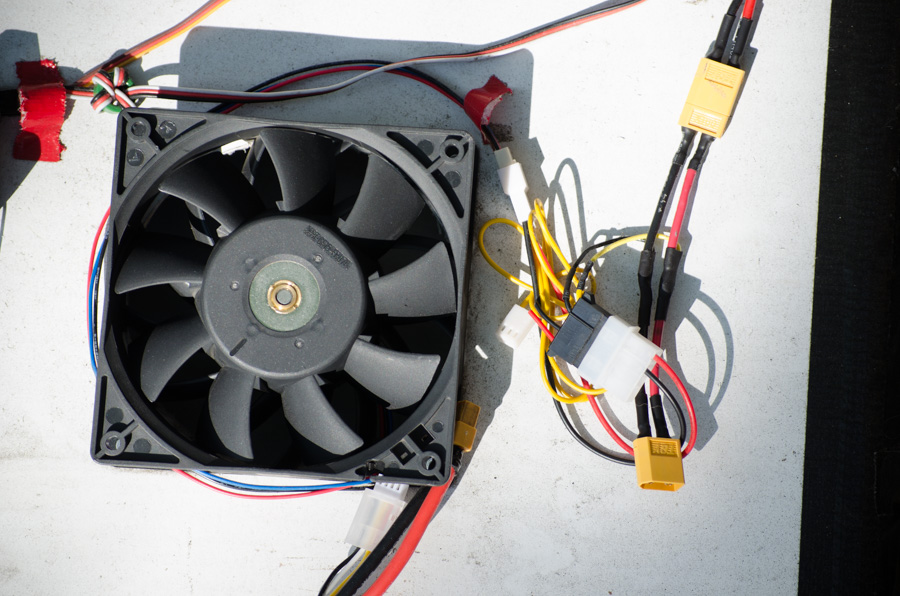 The case fan which pressurizes the skirt and air cushion.
The linkage between the micro servo and the propeller support is a bent paperclip. The propeller is mounted on a section of shelf standard, which in turn is on a bearing scavenged from an old hard drive.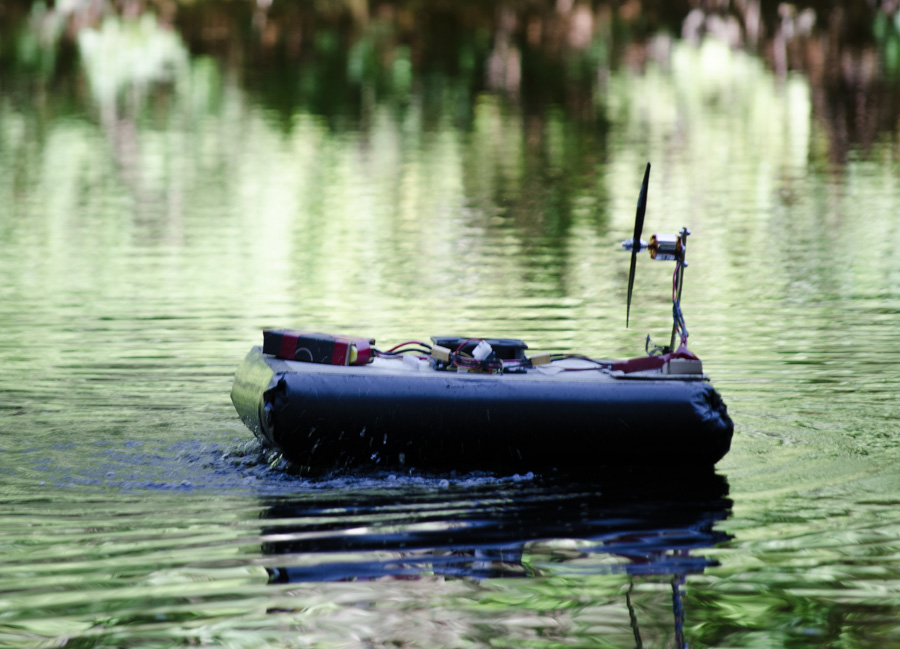 Inspired by RC Test Flight's trash bag hovercraft.
Improvements
Modifications to this design
Case fan protection: Since it's always on (not controlled via remote), I nicked a finger on the case fan several times, and eventually broke some fan blades. A protective wire case would be worthwhile.
Leakage: The enclosed skirt takes on water fairly quickly, which of course makes the hovercraft less buoyant and harder to steer. A different design such as a finger skirt and/or adding a flap, may work better.
Frame simplicity: The angled sides of the cardboard frame didn't turn out to add anything.
Bumpers: The skirt acts as a bumper, and in particular it gets pushed back against the cardboard edge and sometimes torn. Having a cardboard bumper outside the skirt would protect it.
Servo: A larger servo (with a longer arm) might be easier to work with and provide a wider range of motion for the propeller.
Buoyancy: Using insulation foam instead of cardboard would lend the hovercraft natural buoyancy, desirable in case of power failure on water.
Centrifugal / Blower Fan: Compared to the axial Delta fan, a blower fan such as DB6025 HH from sofasco.com would use ¼ the power, and have 2.2x the static pressure (39.7mmH2O), but provide an order of magnitude less air flow (13CFM).
Although turning the propeller (instead of using rudder vanes) is atypical, it worked well.
Alternate design
Many hovercraft, especially small racing hovercraft, have finger skirts. They also feature a bow partition and a rear flap. Various RC hovercraft have also been made with this design.
References:
Parts
Most of these were spare or repurposed parts.
Part
Cost / Source
Notes
Motor: Turnigy 1450KV Brushless
$20 from HobbyKing
This motor was way overpowered for this application; I stayed almost exclusively at ~5% throttle. It, the propeller, and the ESC were purchased for a plane.
Propeller
$2 from HobbyKing
ESC: Turnigy Plush 60A
$35 from HobbyKing
XT60 Battery Connectors
$3 from SparkFun
for the battery &damp; ESC, and to make an extender between the ESC and battery with a splice in for the case fan
Case Fan
$26 from NewEgg
120mm fan, provided ample air pressure and flow, rated 2A@12V, 190CFM, 17.8mmH2O, 370g (specs at DigiKey)
Servo Motor
$10 from Adafruit
Paper Clip
linkage from servo to shelf standard with drive propeller
Shelf Standards
~$3 from a local hardware store
Bearing
from an old (~100MB) hard drive
actually the HD motor, but had convenient mounting holes / screws
Cardboard
free / scrap
Plexiglass, wood block
free / scrap
used to make a rigid mounting structure for the steering assembly
Nuts and Bolts
$5 for 6-32 socket-head machine screws and matching nylock nuts from servocity.com
Trash Bag (33 gallon "outdoor" bag)
25¢ ($5/20)
for the skirt; showed no obvious signs of wear from use on asphalt after a couple hours
Duct Tape
Spray Paint
white base and clear protective finish; for water protection
And, shared with other R/C vehicles:
Construction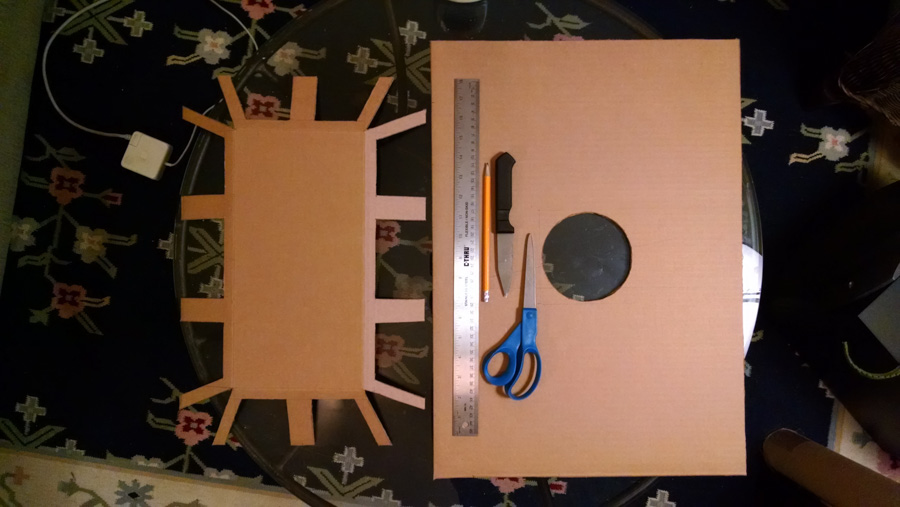 Frame pieces cut out.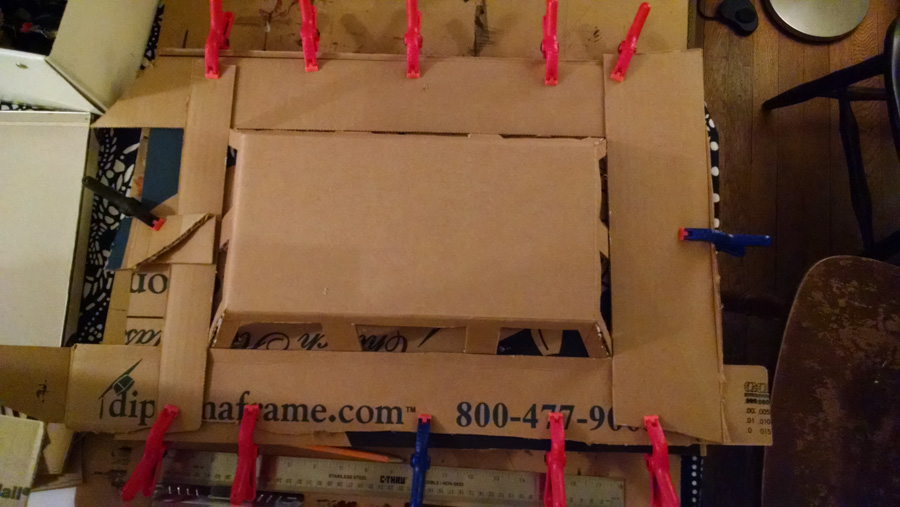 Glued and clamped.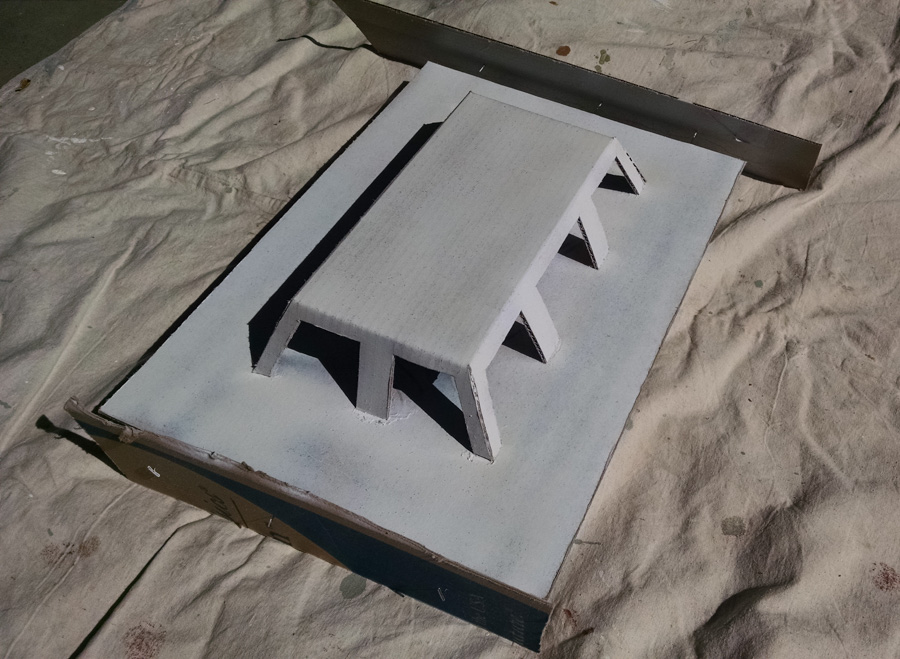 Painted.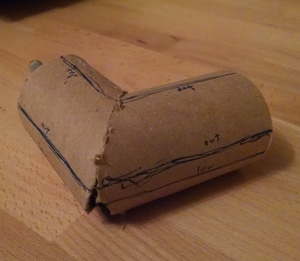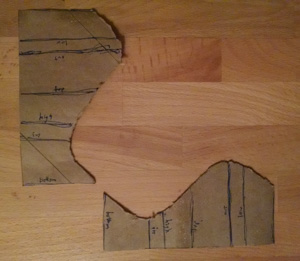 To join the cylindrical segments of the skirt, the edges of the flat plastic sections must be cut as a sine wave.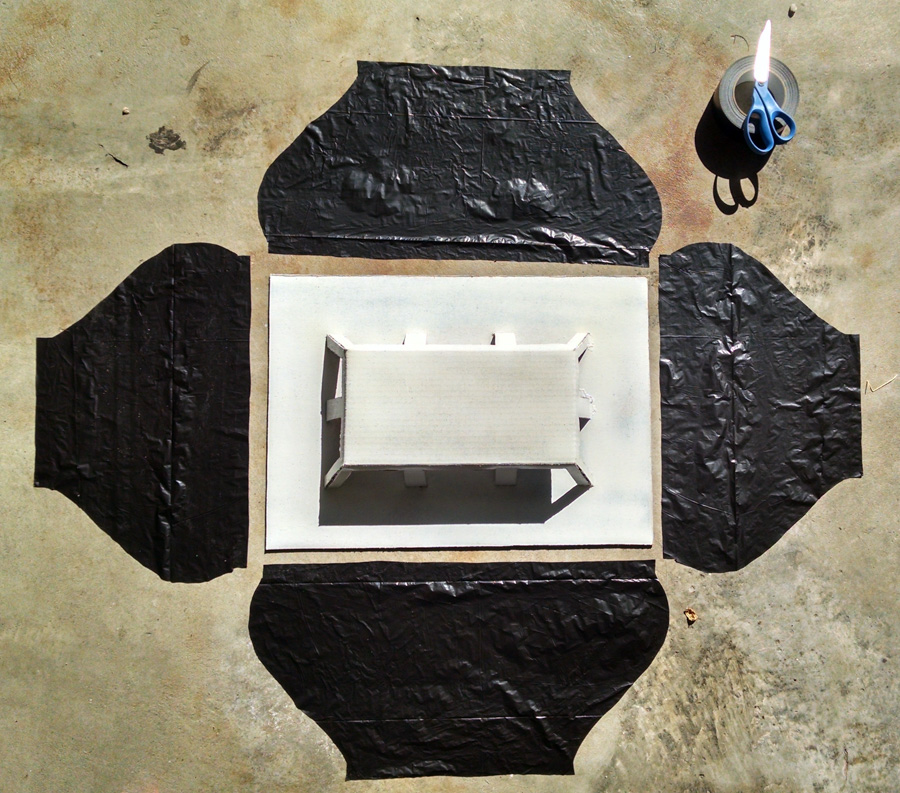 Frame with plastic cut for skirt. I used many short pieces of duct tape to join the curved seam between the plastic sections.
2014-09-06
In: Misc
Created by and © 2014 Mark Fickett except where noted. I try for valid XHTML 1.0 Strict and CSS.