Thailand Bicycle Trip 2009: Part One
Contents
Preamble
Micah sends me a Facebook message on September 25th saying he has two weeks off, and would I like to take a bike trip with him from Ubon Ratchathani (in northeast Thailand) to Angkor (recently in National Geographic) near Siem Reap in Cambodia — starting October 8th, a day under two weeks later. (This is the end of the rainy season, an ideal time to visit.) I think it sounds fantastic and entirely impractical; I say no. When I mention the invitation to my colleagues, they say to forget work and go for it; the more I think about it the more I agree. I work out some logistics (a week of vacation, a week of unpaid time off), get my supervisor's approval (she tells me about her recent trip to Cambodia), and buy tickets October 2nd.
It is Friday, and I will fly Monday night, arriving Wednesday evening (or as it turns out, the morning of Thursday the 8th).
The Bicycle
My bicycle is ready to be checked. Some hardware is removed: pedals, bottle cage, disc-brake heads, rack, light holders. Tires are at 50% inflation (my guess is to survive lower traveling compartment pressure), and handles and crank arms are wrapped.
I pack my bike to check on the airplane by wrapping the handlebars in bubble-wrap, removing the pedals, and wrapping the crank arms. It makes me a little nervous, but turns out fine, both going and returning. It is one of the recommended methods of packing described by Malaysia Airlines (the other being to box it), and they take it as a piece of checked baggage; I also check a box with pedals, paniers, brake hardware, etc. Micah had asked at the bike shops in Ubon and found that they did not rent bikes, nor would we have time to order an appropriately sized bicycle (even in The States, a 25" frame had to be ordered in), so although I had assumed one of those options would be easier, I bring my own bicycle; it is certainly nice to have trusted and appropriately sized hardware, though it makes me nervous for both sets of flights.
Although they take it, many of the airline staff seem unused to checking bicycles. Going, the woman checking my bags asks a supervisor before accepting it (no fee) as checked baggage; and the woman receiving it as oversize baggage asks her colleagues "What do I do with it?" after I hand it off to her. Other passengers comment on it, and my bravery for checking it (relativley) unprotected. Once in Thailand, it gets general attention for being (as I interpret it) shiny — notice I am glad does not end up translating to its theft, or anything more than my nervousness while they check out the tires and brakes. (Since as often as not the meddlers are airport security or border-crossing guards, I repress my defensive instincts, but watch closely.) On the return journey the Malaysia Airlines official has me sign an 'improperly packed' waiver; my positive experience coming leads me to only object once that it is per their guidelines before I acquiesce.
Flying to Ubon
The flight in is — like most travels by airplane, except more so — long and uneventful. My roommate Michelle drops me, bike, and box off at the airport, and check-in (as above) is smooth. A bastion of care, the international flights mean proper meals. The only hiccough is in Bangkok, where I have to collect and re-check my bags since I am switching from international to domestic. With about an hour layover, I just miss my connection; everything is speedy (with a US passport, I do not need to get a visa at all, and bags are a relatively short wait, but the flight is closed by the time I am at the counter to re-check bags. I stay in the airport hotel and arrive in Ubon the next morning. (The airport hotel is easily my biggest expense in Thailand at 4700฿ ($141), followed by the tickets to Angkor at $40 per person for a three-day pass. It is appropriately luxurious, except it lacks free wireless.)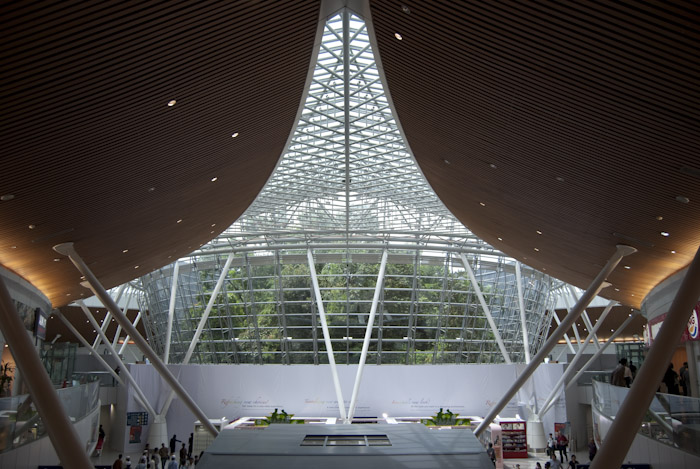 The Kuala Lumpur airport is a pleasant place to pass through; it even has reclined seating, and armless benches (read: beds).
My bicycle has made it to Bangkok (along with the box), accumulating a few stickers along the way but none the worse for wear. When I collect it the rear quick-release lever has come unlocked and the cardboard is rubbing the brake discs to make a worrying squeak, but both are easily remedied.
I fly into Ubon the next morning: it is an airport with three flights and their returns each day, and is appropriately sized. Micah and Kris, a friend and surrogate mother of his, come to pick me up. (She makes knowingly typical comments for calling if anything goes wrong.) We visit a market — a pavilion packed with vendors — to pick up breakfast, which is fried sausage and sticky rice with soup: the beginning of myriad tasty introductions to Thai and Cambodian cuisine. (Micah defers calling it a culinary tour, later, but I am satisfied with it as such.)
Fortified with breakfast, I re-assemble my bike and pack my paniers (leaving my laptop, other small electronics, and some clothes behind). We apply sunscreen (the daily ritual), and are off.
Ubon Ratchathani to Si Sa Ket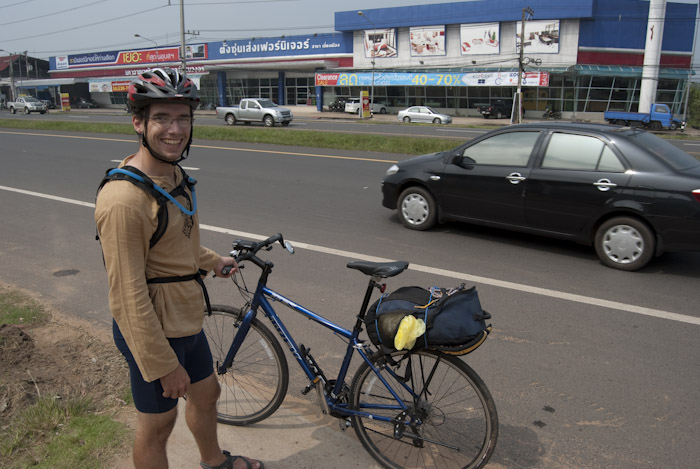 Micah stands with his bike as we depart Ubon; the streets are initially fairly built up with frequent gas stations where we get water and some snacks.
We are on the road by 10:30; as it will be for most of the trip, the riding is easy on well-paved roads. (Micah's preparatory research online has informed us that this is a recent improvement.) Near Ubon the roads are full of larger vehicles and have typical, near-urban highway buildings; they quickly are replaced by rice fields which dominate the scenery to the Thai border. Shortly after we start, Micah introduces me to to a new way of preparing eggs as a snack: scrambled, seasoned, and then returned to the shell to be cooked over coals.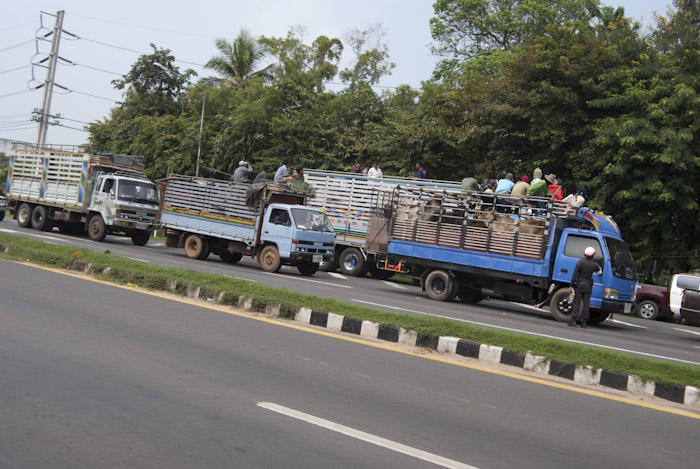 Outside of the city, the cattle tend not to be in trucks; but the trucks, and the motorcycles, remain packed with passengers.
Like most of the pictures of scenery, I took this (probably one-handed, definitely from-the-hip) while riding, here unstraightened for effect.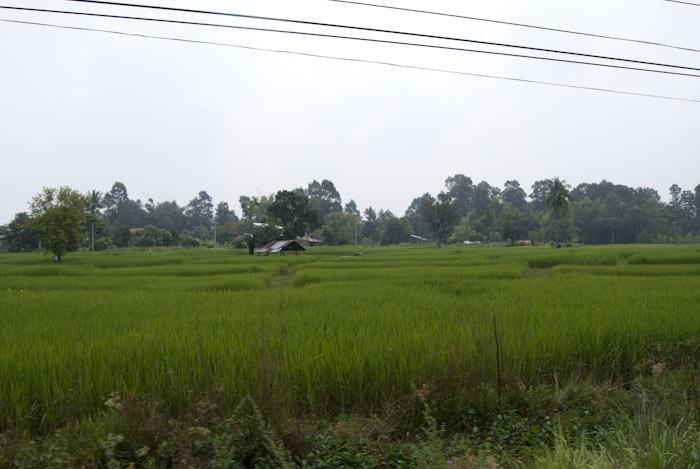 The weather is warm (hot when we stop in the sun), but I am only reminded to be uncomfortable when we stop in an air-conditioned 7/11.
Nearing Si Sa Ket, we stop for fruit drinks. I see someone (the man below) carrying a vegetable I don't know; when I ask Micah what it is (Lotus Seeds), he asks if he can buy some. They're somewhere between green peas and peanuts, and fun to shell as you eat them.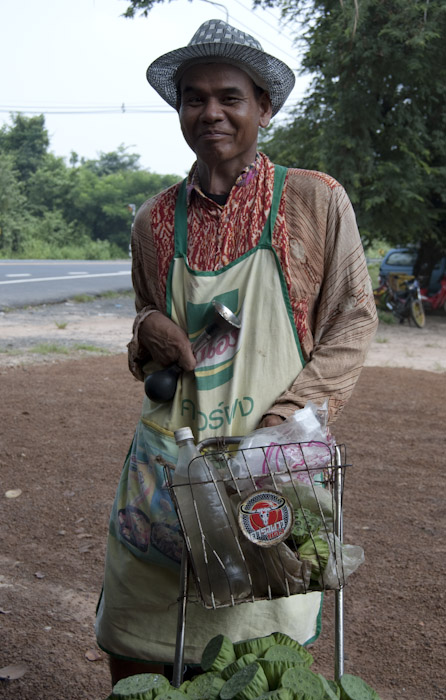 He saves me the trouble of wondering how people feel concerning photography by asking to have his picture taken; he also gets the English, "Lotus Seed", from Micah.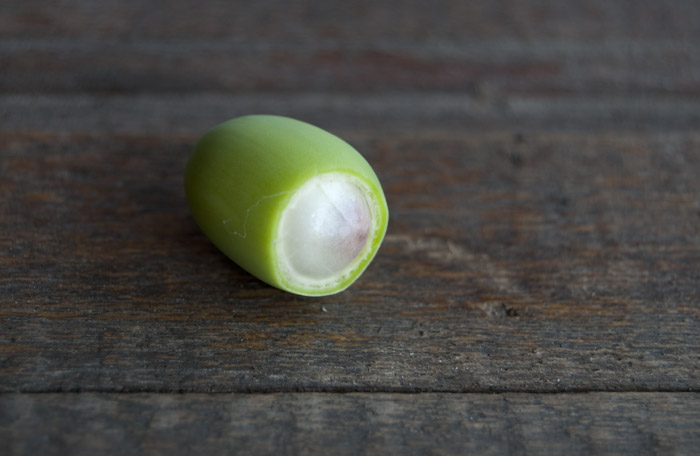 The proprietress of the drink stand gives us something else to try. They are slightly larger than grapes, and hard (though fleshier than apple). The initial bite dries your mouth out ferociously; when you add a sip of water, they become sweet. Micah asks what they are; she tells him (all this in Thai), but prevents his remembering by launching directly into an explanation of how they're useful in ways similar to Aloe.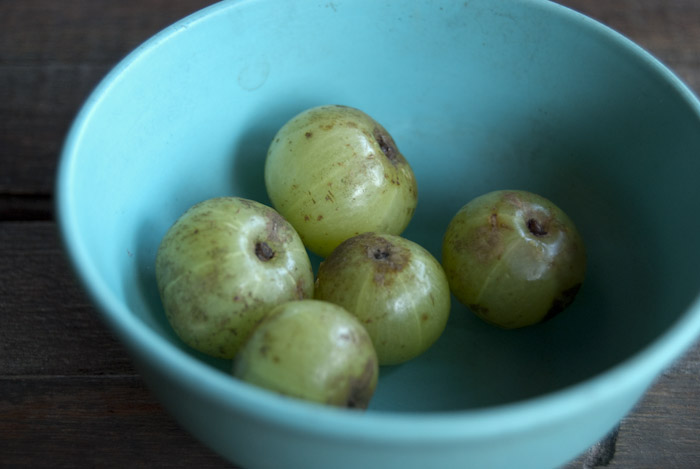 Mystery dry berries: chase with water.
We arrive in Si Sa Ket around 15:30 — 69Km in about five hours, with plenty of snack and water stops. We stop first at a bike shop (LA Bicycle, in fact): I buy a camel back equivalent for $30, and this becomes the first of a number of bike shops to tell Micah that some noise from the rear deraileur is no problem (the bike works, after all). (My hydration pack is a Zéfal Wallaby "No Limit"; compared with Micah's Nalgene, I find it is less convenient both in terms of reservoir cap — small opening and friction-fit as opposed to large and threaded with a rigid surrounding area — and mouthpiece — no shoulder-clip, and the valve is somewhat prone to leakiness, especially bothersome when it drips on my camera. Nonetheless, it proves extremely useful.)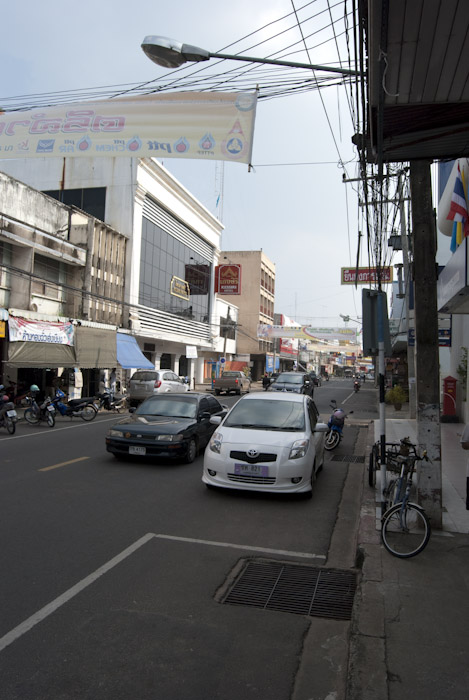 Si Sa Ket has a variety of store fronts.
The bike store owner leads us to a hotel (400฿ or about $10 for the night, which is typical for our journey); we shower, leave our bikes in the room, and get dinner across the street; then walk around town. Si Sa Ket has a center with glass-fronted department stores, and as we walk this changes quickly to markets and then what I am tempted to call slums but are probably just less built up. We get Japanese Crepes (crepe-like but crisp, spread with a sweet flavoring — I go with chocolate — and folded up); then we find a place to use internet to let everyone know we're still alive and making progress (the clientele is school children, if not exclusively then nearly so; we pay 50¢ for half an hour's usage). After a bit more walking around, we're back to the hotel around 19:00.
I am tired a little before Micah in the evening, but that is all the evidence I seem to show of jet lag. Stretching days is easier than compressing, and the combination of helpfully timed light and dark and meals on the flights, the stop in Bangkok, and a day of outdoor physical activity seem to have combined to good effect.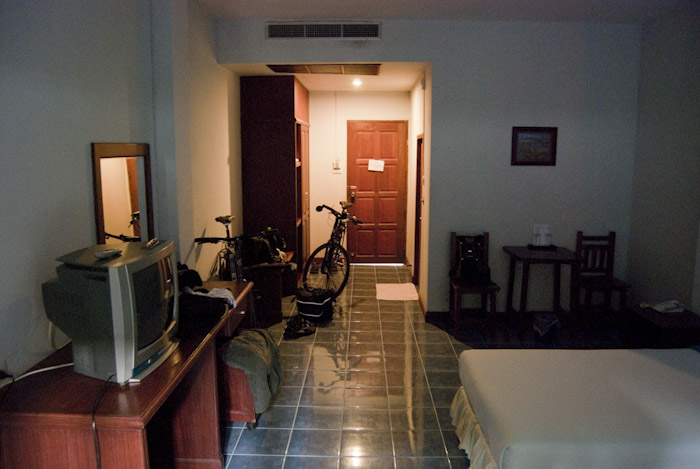 Si Sa Ket to Anlong Veng; Choam Border Crossing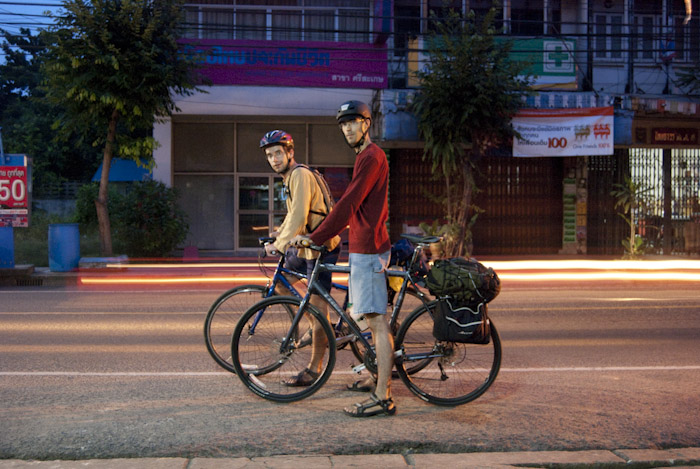 We are on our way bright (dark) and early.
As remains our M.O. for the rest of the biking days, we get up whenever we wake up and it's (nearly) light; in this case, on the road by six. We stop for breakfast a little way out of town: fried breads (minimal bread and a majority of fried-ness) with something hot and soy-milk based to dip them in. There are convenient bus stops all along our route in Thailand, which provide shelter from sun or rain as weather dictates; in this case we sit in one to have breakfast. We stop later for water and second breakfast at a gas station, where I try an odd (but tasty) partial western import: a pork-burger on sticky-rice buns.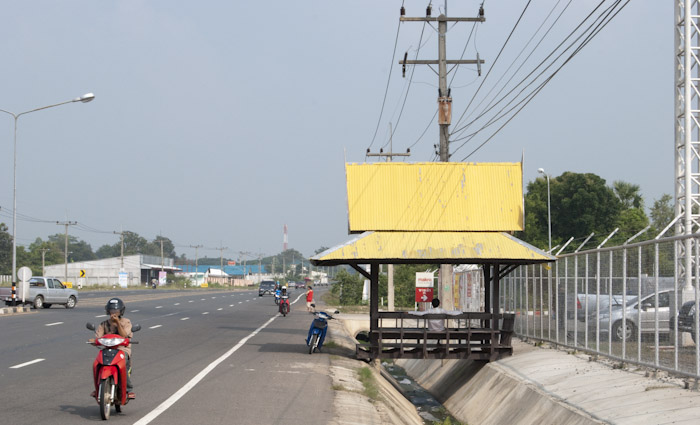 Not all bus stops are so neatly bridging drainage canals (though many are on stilts or otherwise over water). This one is actually closer to Ubon, not on our outward journey from Si Sa Ket at all.
The weather is cloudy in the morning, partly clearing up; the scenery is mostly rice fields, though we also see some plots of eucalyptus and rubber trees. I am struck by how familiar the outdoor waking-up sounds are, despite being among so many other things which are foreign.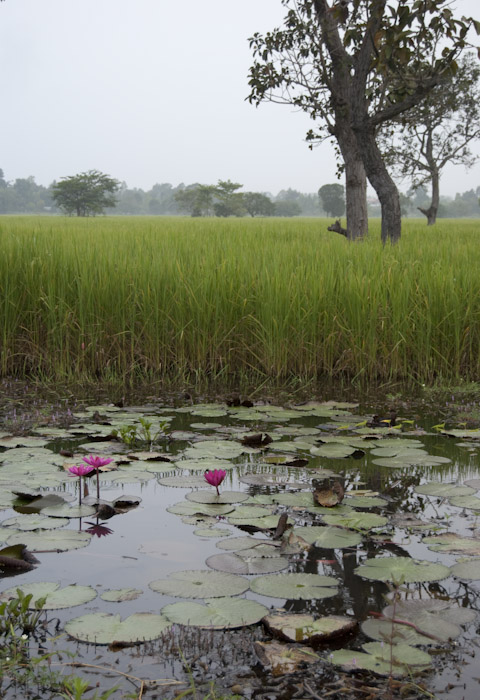 There is usually a roadside waterway (not always decked out with flowers).
Around noon, it pours; we have just enough warning to take refuge and get noodle soup for lunch so we're under shelter. Although most bicycle and motorcycle traffic continues even under a downpour, our stop gradually fills up as the rain continues. I am thrilled by a rainstorm (even a little thunder), coming from LA; Micah is unmoved, having just finished a rainy season.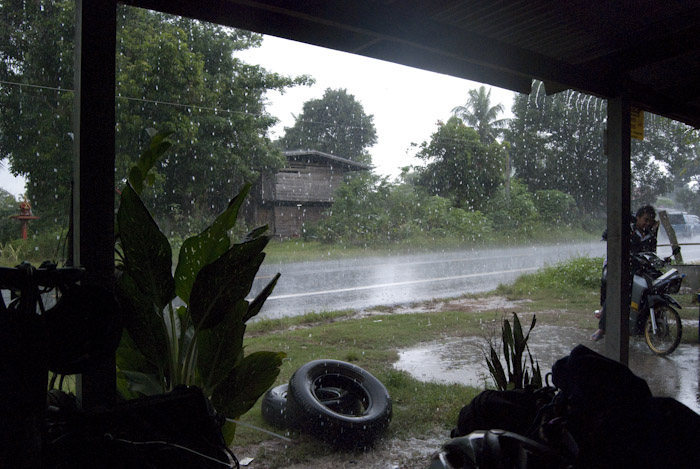 We and the rain continue in mostly complementary fits and starts; we make subsequent stops at a hardware store, a guest house with cabins (where we will stay on the way back), and a bus stop partway up to the border crossing. We share the bus stop with a Thai man who eventually leaves in his pickup, saying he has to check on something and telling us to stay there (we are unsure if he means us to be there when he comes back; we pass him just around the corner when the rain stops and we head on).
Neither the woman nor her cows (as seems typical) gave the rain much obvious notice. From our shelter, we watched her herd them (as pictured, uncooperatively straying to either side of the road) first past us downhill and then back again). (panoramio)
When the rain more or less stops, we hit the hill again. It ends up drizzling moderately on us the rest of the way up, anyway. At the top (still raining lightly — a contributing factor to few photos crossing this direction) there is a more or less unmarked fork. Our options being a dirt road with lots of small buildings and the continuation of the paved road with some barricades and government-looking buildings (closed in, gray), we opt for the latter. We have almost passed it when Micah spots something with an indicative label, but we don't find anyone until we duck around back to find two men watching TV. They say the actual checkpoint is the other way, but let us wait out the rain with them. (They say it rains every day at Choam, this border crossing.) We do not know until we have complete the crossing that we are about a hundred feet from the road in Cambodia, where we would have popped out had we not been vigilant for an immigration office. (Partial blockades are not necessarily an indication to stop; we have by this point passed a few, only some of which produce guards to stop and check our passports.)
When the rain subsides, we head back around the corner, down a few mud-puddled dirt roads, and to the actual border crossing, which is nearly a disaster. The Thai exit is easy (though they charge us a bogus 100฿). On the Cambodian side, we go first to the immigration office, who redirect us to the visa office (a one-room-and-porch wooden structure). As we start filling out forms, the man checking our passports finds that Micah's passport has no more blank visa pages. He speaks no Thai and minimal English, so his summary of the situation is something like No can do nothing, law is law, no blank page. We are at a loss; Micah says shoot, shoot, shoot; we are not ready to go back. We try pointing out partial blank visa pages (no good) or amendmants and endorsements pages (also no good). But eventually, for no reason I can determine but our continued waiting and some change of heart, he relents. We must promise (and do, at least five times on all counts) to come back by the same border crossing, to not go to any other countries between now and our return, and (for Micah) to get a new passport not from the Bangkok embassy but in America. (We are glad to oblige, both for the sake of our continued journey and to avoid any damage to the man's job.) On the visa form, Micah writes a dictated transcript of these promises in the 'official use only' section (relating it later, he summarizes it as: In the future I will not be stupid and bicycle to Cambodia without blank visa pages).
The rest of the process (during which and after we breathe a lot of sighs of relief) is fairly standard. Not having a passport-sized photo for the visa form, I pay $1 (the U.S. dollar is tenable currency in Cambodia, worth 4000៛) and he takes a digital photograph of me. Rather than print it, he records its number in the space usually reserved for stapling on a picture. We go back to the immigration office where they stamp our passports, are directed along a few more muddy roads, and then are back on pavement and headed downhill to Anlong Veng.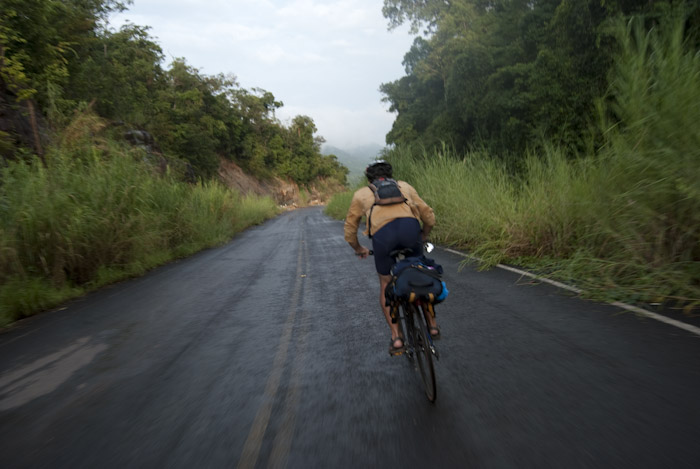 We are moving quickly, the road is damp, and I am wondering if I should be riding one-handed and taking pictures.
As we are tearing down from the checkpoint, with almost no warning we find that half the road is missing. (There may have been a small sign, but nothing to prevent passage.) I switch from taking pictures to braking hard enough to fishtail a little. Luckily, both of us stay on the road.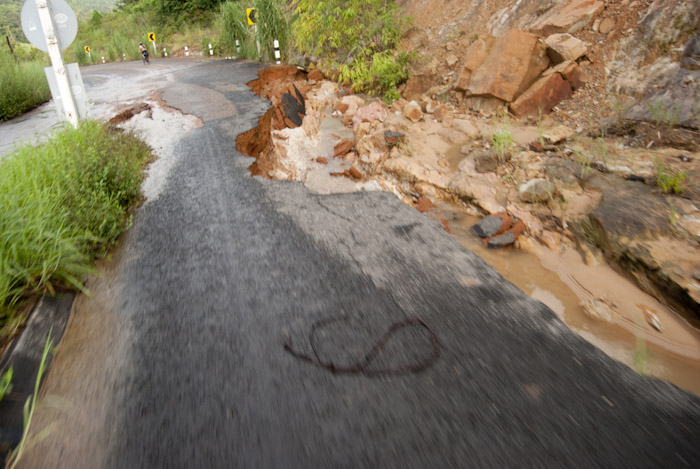 The descent past, we are both struck by how different Cambodia feels from Thailand: more colorful paint on the houses, a herd of goats (unseen in Thailand, though as it turns out equally anomolous in Cambodia), less rigidly orthoganal rice fields (and with younger plants). Also, it is a nearly universal game with young (3-5 years?) children to say 'hello' and 'bye-bye' as we pass — in either order, and as many times as we will answer.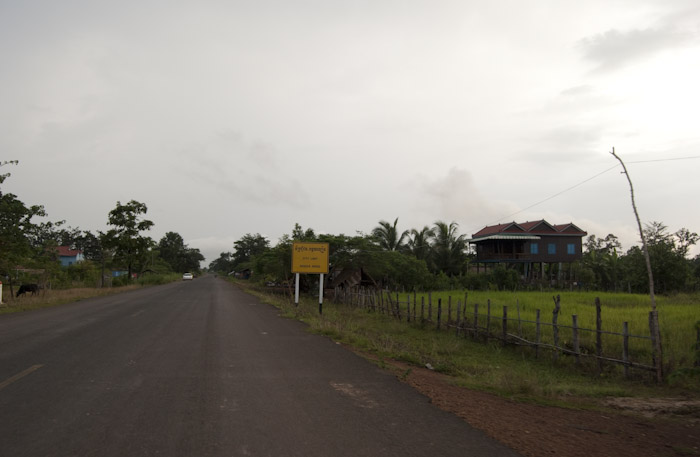 Anlong Veng itself has dirt streets (often over pavement) which are remarkably as smooth or better than much of the road we've ridden on. Once in town, we look for a hotel, lock up our bikes outside (they don't like the idea of us taking them into the room — understandable), and shower (unheated).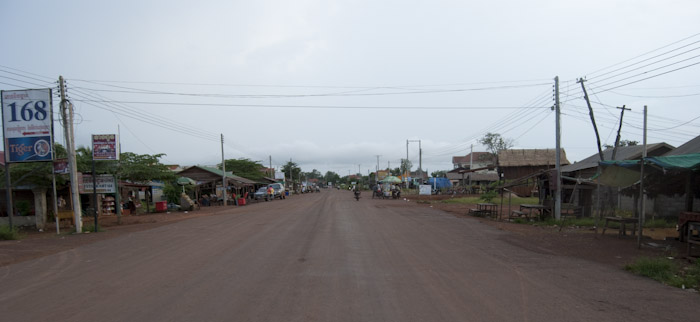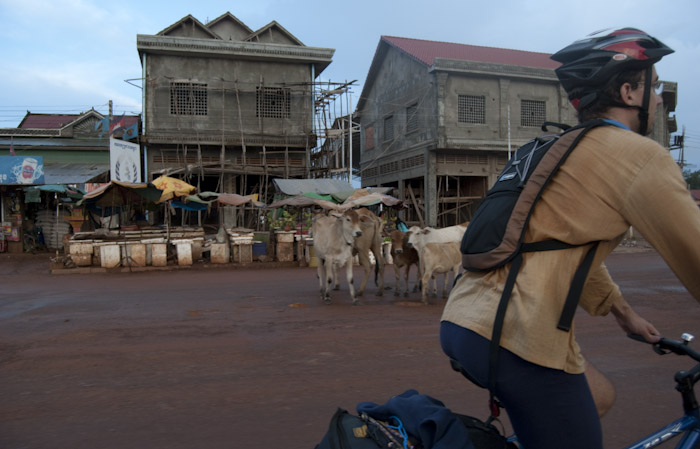 Micah also takes the opportunity to rinse out his riding shirt, leaving it to dry while we take in the town.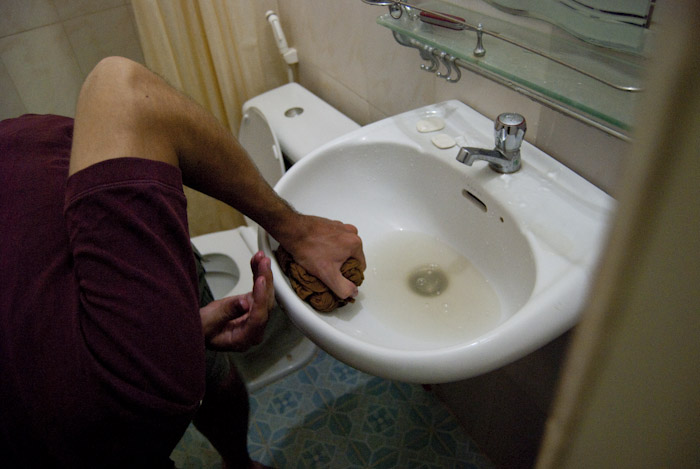 After plugging the drain, we realize there is no release handle; following a brief search it turns out it's a push-again-to-release setup.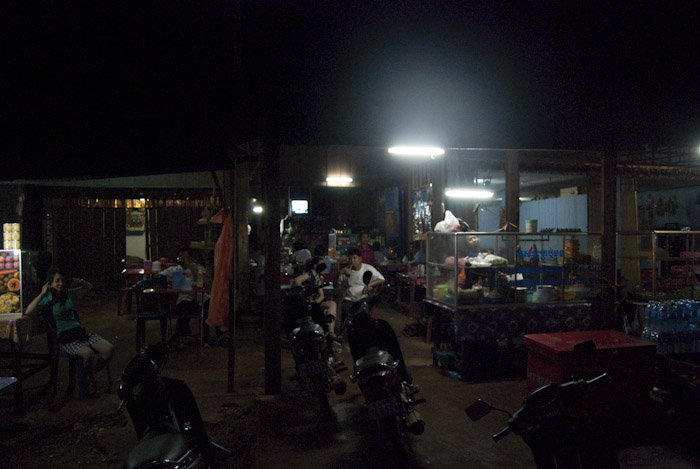 We have a new, shared illiteracy; but in this case the woman taking our order speaks enough English to let us choose between fried rice and noodles. Dinner is 5,000៛, which she converts to $3.
This restaurant is fairly typical of where we eat throughout the adventure: cement or packed-dirt floor, open but covered, good food. Often it is evident the family lives (or at least stays during the day) on the premises. (panoramio)
After dinner, we write (both of us are keeping notes on the days' happenings). I set my camera battery to recharge (plugs in Cambodia work without an adapter; sockets accept both pins and prongs, and my charger works with 230V). Micah has notable sunburn on his neck; I've toasted the side of my left calf; my ring fingers are tingly, presumably handlebar-induced; and (at least while in the saddle) both of us are a bit sore of seat — but we feel tough. We are in bed around 19:45.
In the last two days we have biked from Ubon Ratchathani to Si Sa Ket to Anlong Veng, 69Km and 123Km each of the two days. According to Google Earth, the top of the Chom Sa-Ngam pass — a little before the actual crossing — is 374m, up from 217m near the base, for a climb of 157m in 6.2Km. After the checkpoint, the road drops from 343m to 89m, losing 254m in 3.45Km (rather a faster descent).
Anlong Veng to Siem Reap, via Srey Noi
We start about 5:45, having gotten up on the hour and (perhaps waking some of the staff) having eaten chicken and rice for breakfast. (The sun rose while we were eating.) As we leave, a route-67 highway marker (helpfully in both Khmer and English) informs us that it's 118Km to Siem Reap.
It is densely foggy as we set out, and moisture condenses on any leading surface: our glasses, our bikes and shirts, my camera lens.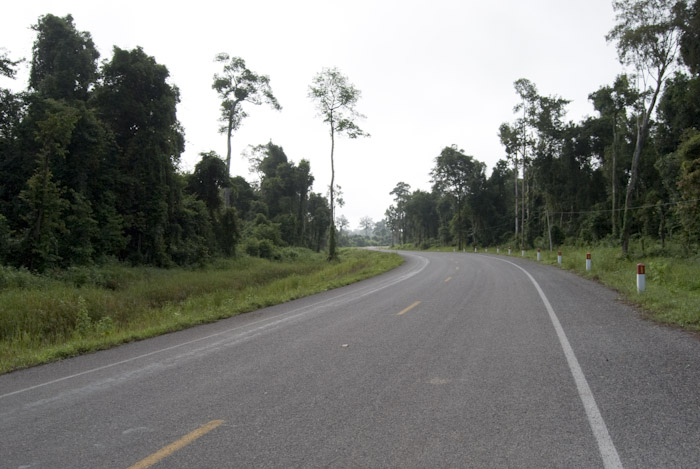 The scenery proves more varied in Cambodia than it has been before this. Another new feature is frequently appearing "Cambodia People's Party" signs.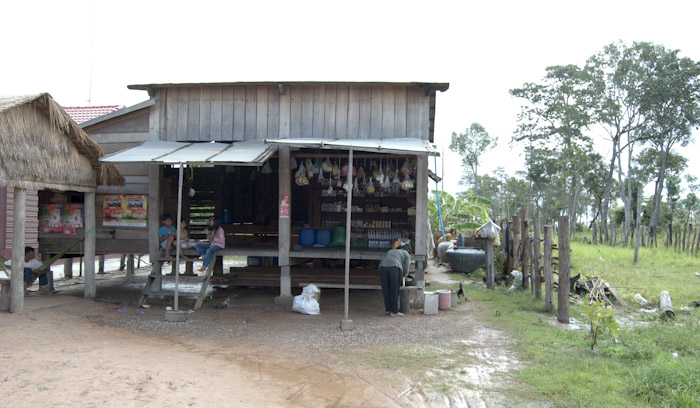 We make a stop here, either for water or sweet bread snacks (or perhaps both).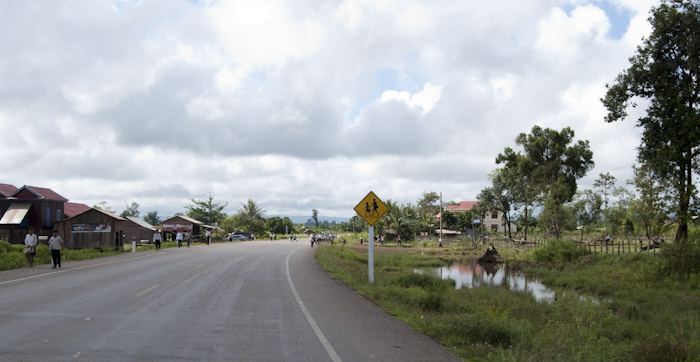 Children are leaving school around 10:00; perhaps a lunch break, perhaps a short day on Saturdays?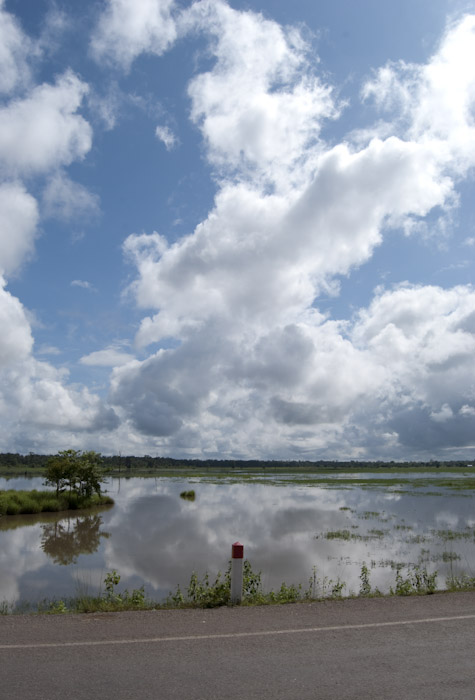 There is a body of water just before Srey Noi. (panoramio)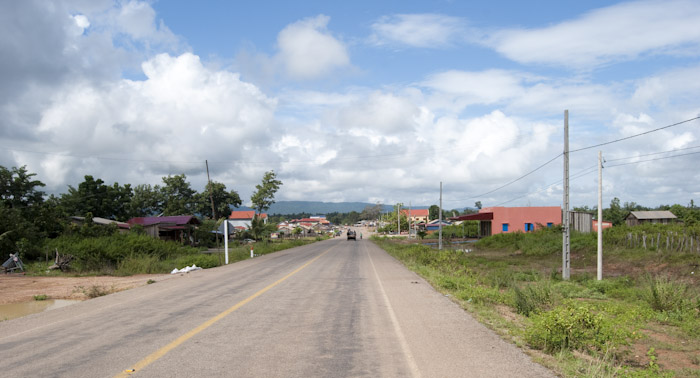 The main drag in Srey Noi: we reach our halfway stop.
Srey Noi is the only major stop on our route from Anlong Veng to Siem Reap; a highway marker just before town informs us we are 77Km from Choam, with 76Km to go to Anlong Veng. (These numbers differ slightly from later map estimates — 121Km total for the day, 63Km and 59Km to Srey Noi and then Siem Reap respectively — but by this point we already treat the markers with skepticism: approaching Choam we saw a few repeated, and even out of order, and similar occurences elsewhere.)
We stop for an early lunch, where our alingual order (whatever the guys finishing as we arrive had) results in tasty meat on rice; ordering fruit drinks in cans is easier (we point). Our host is very friendly, despite our shared difficulty communicating, and after lunch he directs us to a hotel — we are hoping to scope it out in preparation for a probable stop on the way back. We find a likely-looking building, and (again with choppy communication) determine that it is indeed a hotel; as we are trying to explain that we're going on now and will be back in a few days, a young man comes up and interprets for us in strikingly good English. As we are leaving town another young man chats with us in English as well; we are left with the impression Srey Noi has the potential for informational exchange around every corner.
Before leaving, we briefly tour the market — attracting lots of attention for being tall, among other things — and buy some snacks for the road: deep-fried bananas and potatoes (probably). However, as we stop to eat them (after we have been bitten by small red ants) it starts to rain; and after taking shelter under a school's sign, a family a little further down the side-road beckons for us to join them. They are three men in military fatigues, and others; we sit at the table in their yard feeling a bit awkward (and trying to avoid its hearty complement of larger, less painful but also bitey ants — our hosts seem impervious). Eventually we offer some of our snacks to the children (having had the same offer declined by the adults), which proves a hit; and a little later, the rain letting up, we move on.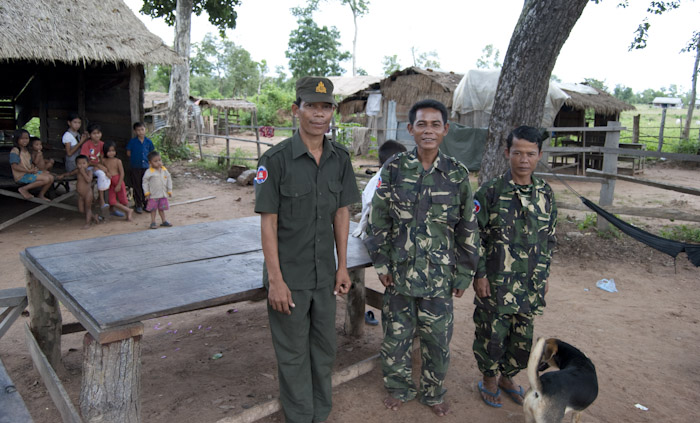 As we collect our bikes (on the school's porch to be better out of the rain) a pickup with official writing pulls past; they precede us back out to the main road, making me a bit nervous to walk behind the rifles now slung over their shoulders (one of which points backwards, rather than down).
Frequently my incidental subject, Micah is exhibiting both sunburn protection (which I thankfully avoid needing) and handlebar strain relief (the many forms of which we both explore). We share the road with plenty of other cyclists, pedestrians, and motorcycles.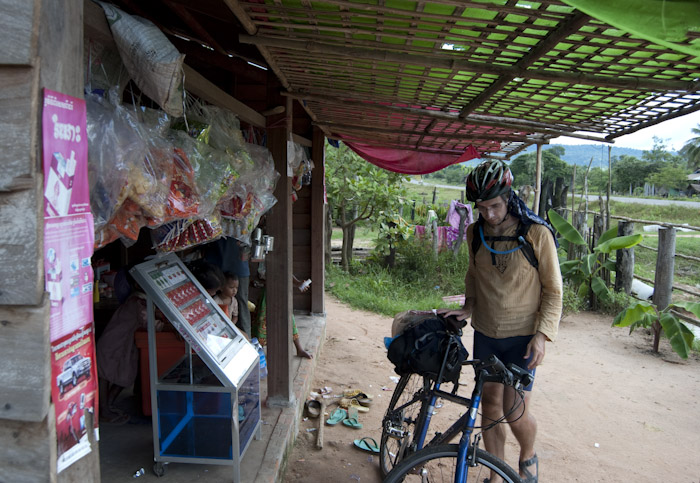 We stop (whenever we're running low) for water: along all of our route it is rarely very far between small shops.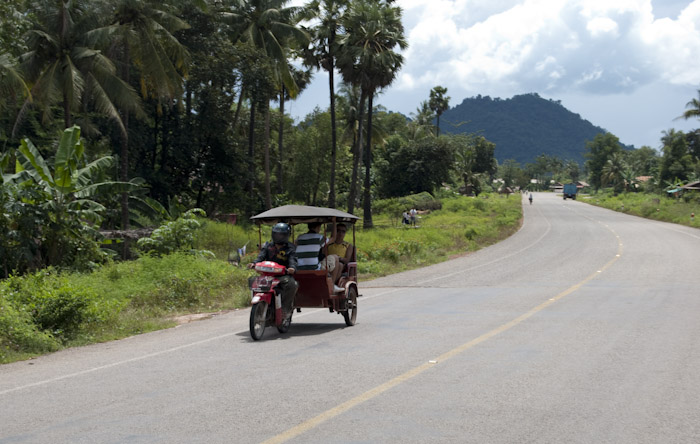 Not far after Srey Noi, we see a number of tuk-tuks (the name being somewhat mis-appropriated from the one-piece vehicle it denotes most places but Siem Reap). We realize later that this stretch passes Kbal Spean (the site with streambed carvings), their likely destination.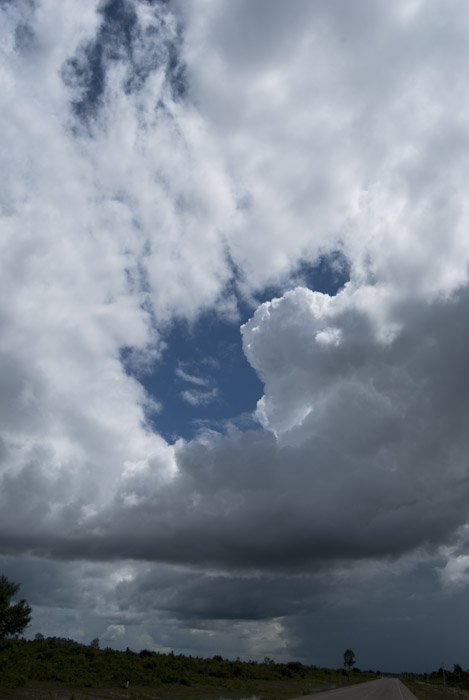 I admire the clouds.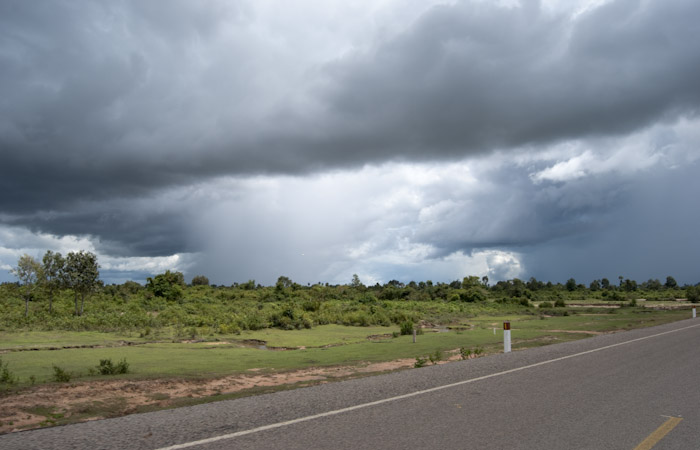 We wonder whether we'll be so fortunate as to thread the gap between rainstorms.
Eventually, the rain does catch us. We take shelter under a tree at a turn-off, then make it a little further before it pours again and stop at a store.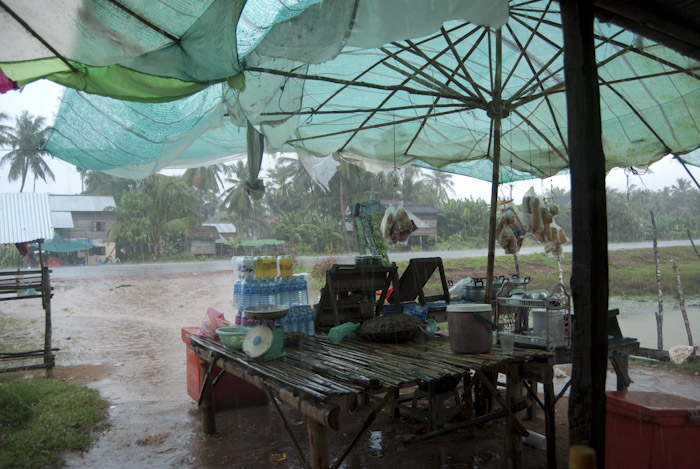 The owner does not do soup preparation (only sells noodles), so we buy crab puffs to eat while we wait. We share the shelter with her, her children, dog, puppies, and chickens.
When the rain lets up (on the order of half an hour) we set out again; it is briefly sunny, but resumes light rain which continues until we arrive in Siem Reap. We are ready to stop, and pick the first likely-looking hotel, which turns out to be good and at the going rate of $12 a night, though a bit on the outskirts of town. We shower, and are back outside in time to see a bit of the city in the light, have dinner, and run some errands.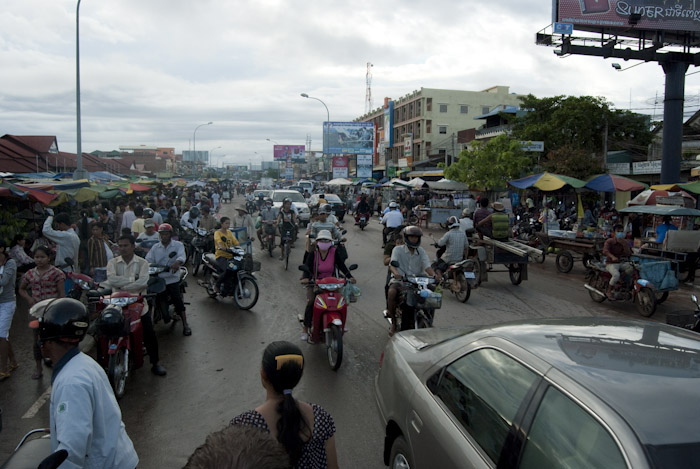 The street past the Upper Market is more crowded than elsewhere in Siem Reap, but not especially more jumbled. (panoramio)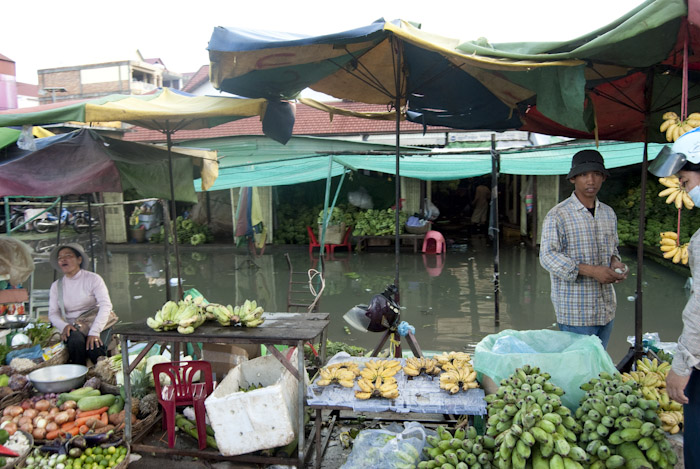 The Upper Market is not unusual in being partly underwater; the bus terminal, for example, shares a similar fate. Residents wear rubber boots (or not) and slosh through unmindful.
One errand is internet; the store has mini cubicles out of silver spray-painted pywood, and primarily bears the Internet Explorer logo which is in fact our option for use. We also stop at an ATM, where I get $90 which is delivered in two tens (good) and a fifty (knowing most expenses will be on the order of $1, I am anxious about how I will break this bill, and surprised it is dispensed). We also pick up rehydration powder at a pharmacy as a precaution, and cocnuts to drink on the way back (less flavorful than hoped for, but sufficiently fruity and wet). We are in bed around seven.
Siem Reap feels to me — though my impression may be skewed since we end up seeing relatively little of it — like a massive village swept to the critical mass of being a city, but without the maturity of infrastructure. The prime example is the way the market and bus terminal and may other small shops are either partly underwater or open onto shallow pools separating them from the road. When night falls, the streets are lit only incidentally (and there are no traffic lights — contrasted with even Si Sa Ket's countdown-lights). It is clearly a tourist town, in the right season, but the omnipresent mega-hotels seem mostly empty during our stay, an impression backed by a clear and similar imbalance of tourist support to actual visitors at the Angkor sites.
This work by Mark Fickett is licensed under a Creative Commons Attribution-No Derivative Works 3.0 United States License.